Historic warship HMS Caroline set to leave Belfast
By Robbie Meredith
BBC News, Belfast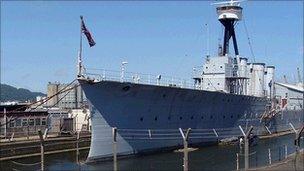 A historic warship berthed in Belfast is set to be moved to Portsmouth.
The National Museum of the Royal Navy have said that they are planning to move HMS Caroline away from Belfast.
In a letter to the NI Executive, the museum's director Professor Dominic Tweddle states that "we are planning to lift the ship and move her to Portsmouth".
The historic World War One warship has been berthed at Alexandra Dock in Belfast since 1923.
She is the last surviving ship, of any nation, that fought at the battle of Jutland in 1916.
Built in 1914 in Birkenhead, HMS Caroline was one of the fastest warships of the time, capable of speeds of up to 30 knots.
Around 80% of the ship is original and it has what are thought to be the only surviving in-situ World War I turbines in the world.
In later years, the ship was used as a training vessel for the Royal Navy reserve but was decommissioned in March 2011.
In the letter, Professor Tweddle warns executive ministers that the museum has to decide on the ship's future by July or the Ministry of Defence "will initiate a competitive process for her disposal".
The letter states that: "For three years the NMRN has been engaging with Northern Ireland authorities to broker a solution for Caroline which keeps her in Belfast.
"While there have been expressions of enthusiasm there has been little action."
Professor Tweddle says that the NMRN will not let the ship be scrapped.
"We are planning to lift the ship and move her to Portsmouth and are assembling the funding to do so."
"This will be good news for the ship but sad news for Belfast."
An economic appraisal of the ship has been completed by DETI but the results have not yet been released.
Related Internet Links
The BBC is not responsible for the content of external sites.