France's Hollande to lower state pension age to 60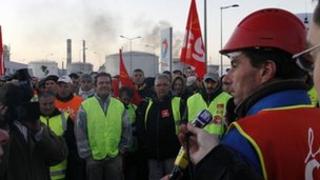 New French president Francois Hollande has unveiled details of a plan to lower the retirement age to 60 for some workers - a key election pledge.
His predecessor, Nicolas Sarkozy, had faced strong opposition when he raised the retirement age by two years to 62.
The move in 2010 sparked weeks of strikes across the country, mainly by public service workers.
The decision comes as the EU warns that France will struggle to meet its fiscal targets without spending cuts.
Details of the partial rollback of Mr Sarkozy's reforms were presented to cabinet on Wednesday, and are expected to take effect by way of a decree later this year.
Cost
As a result of Mr Hollande's changes, those who started their working lives at 18, as well as mothers of three or more children and older unemployed people, can draw a state pension at 60 instead of 62.
Speaking to reporters following the cabinet meeting, Social Affairs Minister Marisol Touraine said an estimated 110,000 people would benefit in 2013, at an estimated cost of 1.1bn Euros (£900m).
This figure is expected to rise to 3bn Euros per year in 2017.
The opposition claim the real cost will be twice that, and criticised the decision to introduce the changes without consulting parliament.
Jean-Francois Cope, head of the conservative UMP party, said Francois Hollande was "burying his head in the sand".
Mr Sarkozy's reforms had been welcomed by financial markets and credit ratings agencies concerned about France's ability to cut its debt and deficit levels.
The European Commission warned last week that any changes in the French pension system had to be closely monitored.
But Prime Minister Jean-Marc Ayrault argued that the government was fully committed to meeting targets.
Unions and employers are now expected to begin negotiations on how to adapt measurements for supplementary pension schemes.