Russian parliament backs huge protest fines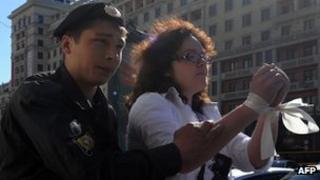 Russia's upper house of parliament has voted through a controversial bill which sharply increases fines for breaking laws governing protests.
The bill boosts fines for violations from the current maximum 5,000 roubles (£99; $152) to 300,000 for participants and 600,000 for organisers.
The legislation was backed by 132 senators on Wednesday, with one voting against and one abstaining.
It now just has to be signed off on by President Vladimir Putin.
He has previously signalled his support for the bill, which is backed by the ruling United Russia party.
Critics have accused the ruling pro-Kremlin party of destroying freedoms.
'Draconian' bill
Under the legislation, people could be fined for taking part in unsanctioned protests, or for violations during sanctioned ones.
The BBC's Steve Rosenberg in Moscow says it gives local authorities more room to interpret restrictions on where public protests can be held and what form they can take, including the ban on participants covering their faces.
The bill had already passed the lower house of Russia's parliament, the Duma, on Tuesday, after a long debate in which opposition lawmakers tried to submit nearly 400 amendments.
The government wants it to become law before a planned anti-government street protest in Moscow next week.
Gennady Gudkov, an MP with the opposition Just Russia party, described the bill as "draconian", saying it reflected the Kremlin's "fear of people".
"It is the path toward civil war, it is the path towards massive repression and we all know how that ends: in blood, poverty and revolution," Mr Gudkov said.
Human rights activists have said that the bill violates Russia's constitution on the right to free assembly.
Mr Putin has recently publicly expressed his support for the bill.
"We must shield our people from radical actions," the president said.
Russia has seen a number of huge anti-government protests following parliamentary elections in December, which the opposition says were rigged.
The authorities deny allegations of rigging.