Norwegian far right defend Breivik's views on Islam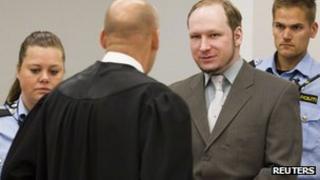 Defence witnesses from the far right in Norway have backed Anders Behring Breivik's views on Islam in court on Day 31 of his murder trial.
They said Norway was threatened by Muslim immigration, an argument used by Breivik in an attempt to justify massacring 77 people and injuring 242.
Breivik's defence said the extremists' testimony proved he was not insane because others shared his views.
However, the speakers did not condone Breivik's attacks.
Breivik admits bombing government buildings in the capital Oslo before shooting young Labour Party supporters at a camp on the lake island of Utoeya on 22 July.
Norway, a small nation famous for its traditions of political tolerance, was traumatised by the attacks.
The trial is seeking to establish whether the 33-year-old is sane, in which case he will be sent to prison. If not, he will be held in a psychiatric institution.
The court warned on Tuesday it might not be able to deliver its verdict until 20 July or even 24 August, for logistical reasons.
'We're at war'
Arne Tumyr, who heads an organisation called Stop the Islamisation of Norway, described Islam as "a religion of violence, a religion of wars".
His organisation, he said, considered Islam "a threat to Norwegian society and values".
Mr Tumyr said people in Islamic states lived "in a regime of terror and slavery" comparable to Nazi Germany and the Soviet Union.
If nothing was done, he said, Norway would be "taken over by Muslims".
Tore Tvedt, founder of far-right group Vigrid, said on Muslim immigration: "When they get their will, the Nordic race will be exterminated."
"The constitution has been cancelled, we're at war now," he told the court.
Members of Islamic communities currently make up just under 2% of Norway's population of 4.9 million, according to data from Statistics Norway .
In response to lawyers for survivors and family members of Breivik's victims, defence lawyer Geir Lippestad said the far-right testimony was necessary to show his client was sane.
"Our aim is not to argue in favour of a political opinion but to show that the way the accused views the world is shared by others," he told the court.