Remains of Spanish man discovered after 15 years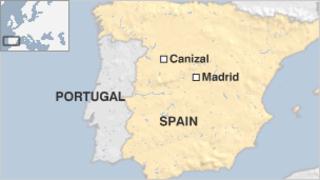 The remains of a man have been found in his house in western Spain at least 15 years since he was last seen, local media reported.
The skeleton believed to be of Vicente Benito, who would now be 73, was found in the corridor of his home in the village of Canizal.
Neighbours said they believed Mr Benito, a shepherd, had moved away.
The only money in the house was in pesetas, the currency that was replaced when Spain joined the euro in 2002.
"It has been 14 or 15 years [since he was seen], no-one can say for sure. People thought he was not here," said Mayor Miguel Angel Herrero.
Local newspaper La Opinion de Zamora reported that the remains were discovered when Mr Benito's nephew decided to break in to the house in a bid to discover what had happened to his uncle.
After climbing in through a back window he found the partially-clothed skeletal remains on the floor. Police later sealed off the house.
"I won't be able to sleep for a week," Mr Benito's nephew told the newspaper.
Neighbours recalled that Mr Benito was a loner who worked as a shepherd, La Opinion de Zamora reported.
His disappearance was only noticed when his dog was left tied to the bars of his window and had to be freed.
It was rumoured he had gone to Portugal or moved elsewhere for work.