Nagorno-Karabakh profile - Leaders
President: Bako Sahakyan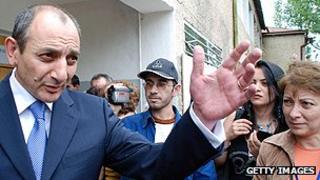 Bako Sahakyan became president in September 2007, replacing Arkadiy Gukasyan, who was barred from seeking a third term.
The head of the unrecognised republic's security service from 2001 to 2007, Mr Sahakyan won 85% of the vote after campaigning as an independent backed by the governing Democratic Party.
His landslide victory was widely viewed as a reflection of voters fear that Azerbaijan may try to retake the territory by force.
Mr Sahakyan has pledged to gain international recognition of its independence, and wants Nagorno-Karabakh to be given full representation at any talks on the way forward.
Mr Sahakyan was born in 1960 in Stepanakert, the capital of Nagorno-Karabakh. He served as a leading officer in the unrecognised republic's defence forces, before switching to the Interior Ministry and then the security services.
Prime minister: Arayik Harutyunyan
Arayik Harutyunyan, the leader of the Free Homeland Party, has been prime minister since September 2007. He was nominated by Bako Sahakyan soon after his election to the presidency.