Spain singer Javier Krahe tried for 'cooking crucifix' film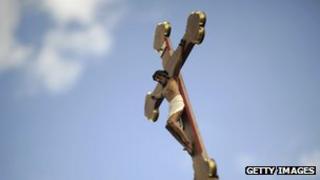 A Spanish folk singer who made a spoof cookery programme on how to roast a crucifix has gone on trial for offending religious sentiment.
Appearing in court in Madrid, Javier Krahe, said he would go into exile in France if found guilty.
In a parody on the resurrection of Christ, his satirical short film says a crucifix put in the oven for three days will emerge of its own accord.
He faces a possible fine of 144,000 euros ($188,000, £115,000).
Made in 1978, when it was banned under strict censorship laws in place at the time, the film was first broadcast in 2004.
It shows how to prepare the crucifix for roasting by removing the figure of Christ from the cross, rubbing it in butter and putting it into a casserole.
The case was brought by a Christian legal centre, which said it was the first time the relevant law had been invoked.
Mr Krahe was applauded by fellow artists and friends as he entered the court, according to the Efe news agency.
"They have not understood me," he said outside the court about the charges he faced.
He added that he would focus on writing songs about girls in future, although he would not completely stop writing songs about the Church.
A fellow singer and friend, Miguel Rios, said he hoped the court would sentence Mr Krahe to three Hail Marys instead of the fine.