Gibraltar and Spain in new fishing confrontation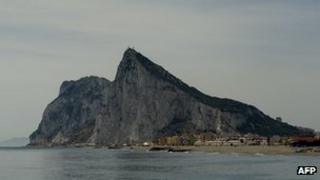 Gibraltar police boats have confronted a Spanish trawler but did not stop it fishing off the Rock, in an incident similar to a stand-off last week.
About four police vessels and a Royal Navy patrol boat intercepted the trawler from La Linea, which spent several hours raking up marine life, a police spokesman told the BBC.
The trawler ignored warnings to stop, but police did not board it as it was protected by two Guardia Civil vessels.
Spain disputes Gibraltar's sovereignty.
Royal Gibraltar Police spokesman Richard Ullger said the trawler left the Rock's territorial waters at about 11:00 local time (09:00 GMT) on Monday and sailed back to nearby La Linea. It had spent about six hours fishing off Gibraltar's Elbow Battery.
The police will issue the Spanish crew with a court summons - the normal procedure when trawlers are escorted by the Guardia Civil (Spanish gendarmerie), he said.
In such cases "we avoid active enforcement because it could provoke an incident", the spokesman explained.
Spanish crews accused of fishing illegally do not normally attend Gibraltar court hearings.
Gibraltar has been a British colony since 1713, but Spain insists that it has a right to fish in Gibraltar waters.
Spain's Efe news agency named the La Linea trawler as Divina Providencia.
During the tense confrontation some of the boats' hulls scraped each other, the trawler's captain Francisco Gomez said.
Late last Wednesday Gibraltar police boats surrounded three Spanish fishing vessels after they cast their nets near Gibraltar harbour.
Again the fishermen, from the port of Algeciras, were protected by Guardia Civil boats.
The UK government insists that it will "not enter into a process of sovereignty negotiations with which Gibraltar is not content".
The dispute will figure in talks in London on Tuesday between UK Foreign Secretary William Hague and his Spanish counterpart Jose Manuel Garcia-Margallo.
Gibraltar's new government says it will not allow Spanish trawlers to fish in the territory's waters and insists that laws on nature protection must be protected.