Bosnian couple 'enslaved German girl'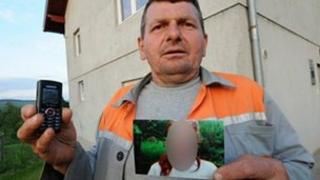 A Bosnian couple enslaved a German girl for eight years, starving and beating her, local media have reported.
The girl, now aged 19, was forbidden from meeting people and was not allowed to attend school, prosecutors say.
She was rescued from the couple and taken to a safe house, but officials said she was in a bad physical and psychological state.
Police arrested the couple in Bosnia-Hercegovina's Tuzla region after a neighbour tipped off the authorities.
Milenko Marinkovic, 52, and his wife Slavojka, 45, were detained on 17 May on suspicion of treating the woman in an inhuman way.
The girl was found in a forest near the town of Kalesija.
The couple had allegedly tried to hide her from the authorities, and she weighed just 40kg when she was discovered.
"They kept her locked up, neither allowing her contact with other people, nor to go to school," police spokesman Admir Arnautovic told FTV public television on Sunday.
"They subjected her to inhumane treatment and torture."
Local media reported that the girl had arrived in Bosnia eight years ago.
The girl's mother, a German national, had once been married to Milenko Marinkovic.
Investigators questioned the mother, who reportedly stays in the village for long periods but also travels to Germany and Austria, as a witness in the case.
One of the neighbours told local media he once witnessed Milenko Marinkovic harness the girl to a horse cart and whip her while she pulled it.
"I could not watch them beat and starve her any more," he said.