Spain's loss-making Bankia vows transparency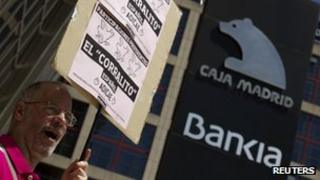 The head of Spain's fourth-largest bank, Bankia, has promised more transparency, a day after announcing huge losses and asking for a bailout.
Jose Ignacio Goirigolzarri told a news conference a full restructuring plan would be finalised by the end of June.
On Friday, the bank revised its 2011 results from a profit of 300m euros (£240m; $375m) to a 2.98bn-euro loss, and asked the state for 19bn euros.
The Madrid stockmarket suspended trading in Bankia shares on Friday.
The bailout of Bankia would be the biggest of its kind in Spanish history and would largely nationalise the bank.
Mr Goirigolzarri said the bank would use the bailout money to clean-up losses from loans made during the construction boom and protect against future losses.
In the news conference, he stressed how the bank had to look to the future and move on from the crisis.
"We are mindful that we will be managing a bank with public participation and will do so with all the professionalism, austerity and transparency we are capable of applying," he said, according to a transcript on Bankia's website .
The BBC's Tom Burridge in Madrid says the fear is that Spain's financial crisis and recession will continue, and more people will default on their mortgages.
Credit downgrade
Spanish banks, which lent heavily during the property bubble, are seen as particularly shaky as they now hold massive amounts of soured investments.
Shortly after the bank announced its huge losses, rating agency Standard and Poor's (S&P) downgraded the bank, along with four other lenders, to "junk" status.
The government had already intervened earlier this month and awarded Bankia a 4.47bn-euro loan.
Bankia had to reassure savers last week that their money was safe after a Spanish newspaper reported a run on the bank.
Bankia was created in 2010 from the merger of seven struggling regional savings banks. It holds 32bn euros in distressed property assets.
Its shares fell 7.4% on Thursday to close at 1.57 euros, down 58% from their listing price in July 2011.
There have been four attempts by Spanish governments to shore up the banking system since the global financial crisis of 2008.
As part of the latest plan, lenders are having to make 30bn euros of extra provisions to cover potential losses on property loans. This is in addition to 54bn euros they were ordered to set aside in February.
The health of Spain's banking system is key to whether the country eventually needs to seek a bailout itself from the eurozone and the International Monetary Fund (IMF).
Spain's credit rating was downgraded by S&P last month on the basis that it would probably have to take on more debt to support its banks.