Ratko Mladic war crimes judges reject long trial delay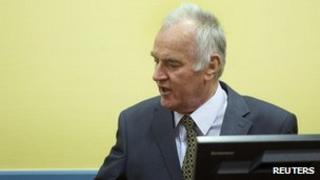 Judges conducting the war crimes trial of Bosnian Serb ex-commander Ratko Mladic have rejected a six-month delay requested by the defence.
The case came to an abrupt halt last week when it emerged prosecutors had not disclosed evidence to the defence.
The trial judges accepted there was an impact on defence preparations but ruled that the effect was "sometimes very small or even non-existent".
They said while a delay was justified, the case should resume on 25 June.
Ratko Mladic, 70, denies 11 charges of war crimes and crimes against humanity, allegations that date back to the 1992-95 Bosnian conflict.
The trial began on 16 May at the International Criminal Tribunal for the former Yugoslavia in the Hague and was adjourned the next day when it became clear that around 7,000 pages of evidence had not been handed over to the defence.
Four-week delay
Much of the material was thought to relate to witnesses due to be called to give evidence before the court's three-week summer recess in July.
The first witness had been due to give evidence on 29 May. The prosecution's failure, blamed on a clerical error, will mean a delay of four weeks to the trial.
The former army commander's lawyers had said they would need six months to examine the documents.
Responding to the defence request for an adjournment, the trial judges called on prosecutors to change the order of witnesses so that those least related to undisclosed material should appear first.
They added that the Mladic team could also ask for a further adjournment, a postponement of specific witnesses or a recall of witnesses.
On Tuesday, prosecutors said they would call more than 400 witnesses including survivors, journalists and foreign military personnel. One witness is a police officer who survived the Velagici school massacre in which more than 100 men died.
An estimated 150 people are expected to testify in person.
Gen Mladic is accused of orchestrating the massacre of more than 7,000 Muslim men and boys at the Bosnian town of Srebrenica in 1995.
Another of the witnesses, Eelco Koster, was a member of the battalion of Dutch peacekeepers in Srebrenica, who saw the arrival of thousands of Bosniak (Bosnian Muslim) refugees at the UN base in the suburb of Potocari.