Dominique Strauss-Kahn calls for end to 'gagging order'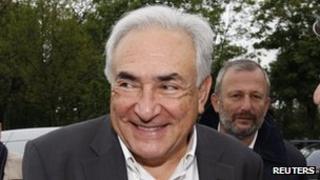 The former head of the IMF, Dominique Strauss-Kahn, has asked a French court to lift a "gagging order" on him.
Legal restrictions were imposed in connection with an investigation into his alleged role in a prostitution ring in northern France.
He denies the accusations but the restrictions mean he is not allowed to speak to the media about the case.
Mr Strauss-Kahn's lawyer argues the ban is "persecutory and pointless". He expects the court's verdict next week.
After the hearing the lawyer, Henri Leclerc, explained: "We contested the legal restrictions, notably this very strange ban on speaking to the press about a matter that the media discusses a lot."
The investigation in the northern French city of Lille has become known as the Carlton affair, after the hotel where several orgies are alleged to have taken place.
Investigators want to establish whether Mr Strauss-Kahn knew he was dealing with prostitutes and pimps at parties.
He says he did not know the women at parties were prostitutes and denies there was any violence.
He is also being investigated over claims that he was involved in a "gang rape" in Washington, after allegations were made by a Belgian prostitute.
A charge that he attempted to rape a hotel maid in the US last year was eventually dropped, but a civil case is pending.
The incident put an end to his political career. Mr Strauss-Kahn was regarded as a leading contender the French presidency.
He denies all the allegations, but if he is found guilty the charge of "aggravated pimping as part an organised gang" carries a potential prison term of 20 years.