Abkhazia profile - Media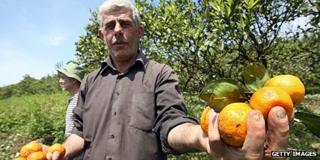 Russian TV and Abkhazian state TV are the main sources of news. Major Russian stations are relayed in the territory. AGTRK is the state-owned radio and TV broadcaster.
There is little or no access to Georgian TV, other than by satellite.
The only private TV, Abaza TV, is licensed to cover the entire region.
The Abkhaz government publishes newspapers in Abkhaz and Russian. Several private and papers publish alongside official titles.
Radio listeners can choose between Abkhazian, Russian, and Turkish stations.
The activities of the president and other leaders dominate the news on state media. Fear of retribution can mean that journalists self-censor. There is no significant questioning of Abkhazia's ties with Russia. Views toward Georgia are uniformly negative.
Internet access is growing. Mobile operators Amobile and Aquafon are the leading providers of internet services. Several Abkhaz bloggers use Russian platform LiveJournal.
The press
Television
Radio
News agency