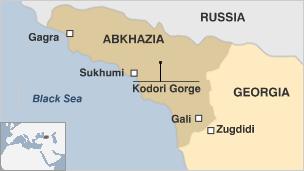 Situated in the north-western corner of Georgia with the Black Sea to the south-west and the Caucasus mountains and Russia to the north-east, Abkhazia was once known as a prime holiday destination for the Soviet elite.
The region fought and won a war of secession with Georgia in 1992-93, and formally declared independence in 1999.
After the Georgian-Russian war in 2008, Moscow recognized the region as an independent state. Georgia responded by declaring Abkhazia "occupied" by Russia.
In recent years, Abkhazia has drifted closer and closer to Russia. In 2009 Moscow signed a five-year agreement with Abkhazia to take formal control of its frontiers with Georgia proper.
In 2014, Russia and the breakaway region signed a "strategic partnership" agreement, angering Georgia, which accused Moscow of seeking to annex Abkhazia.
Territory: Abkhazia
Status: Break-away region of Georgia. Declared independence 1999. Not recognized internationally.
Population: (1991) 550,000 (2011) approximately 250,000
Capital: Sukhumi
Major languages: Abkhaz, Russian
Currency: Rouble
Major religions: Christianity, Islam
Natural resources: Agricultural, primarily citrus fruit, hazelnuts, tea, timber; some coal, hydro-electric power
President (resigned): Raul Khadzhimba
Raul Khadzhimba was voted in as president in August 2014, in an election denounced as illegal by the European Union and Georgia.
He resigned in January 2020, after protesters stormed his office in the capital Sukhumi, accusing him of having rigged the presidential election of the previous September.
Parliament has scheduled fresh elections for March, and Prime Minister Valery Bganba will serve as interim president.
Mr Khadzhimba, a former Soviet KGB officer who served in senior Abkhaz governments posts from 1999, had taken over from Alexander Ankvab, who was himself forced out over allegations of corruption and misrule when protesters broke into the presidential administration building in May 2014.
Russian TV and Abkhazian state TV are the main sources of news. Major Russian stations are relayed in the territory. The only private TV, Abaza TV, is licensed to cover the entire region.
There is little or no access to Georgian TV, other than by satellite.
The Abkhaz government publishes newspapers in Abkhaz and Russian. Several private papers publish alongside official titles.
Internet usage is growing fast.
Some key dates in Abkhazia's history:
756 - Independent kingdom formed
985 - Becomes part of Georgia, later regaining independence
1578 - Comes under Turkish rule
1810 - Russia declares Abkhazia a protectorate
1864 - Russia annexes Abkhazia
1931 - Soviet authorities incorporate Abkhazia into Georgia
1991 - Georgia declares independence, sends troops to Abkhazia the following year to stop secession movement
1993 - Fierce fighting ends with Georgian forces being expelled from Abkhazia
1994 - Ceasefire agreed, peacekeepers arrive, nearly all Russian
1999 - Abkhazia declares independence
2008 - Russia formally recognises Abkhazia's independence, following the Russian-Georgian war over South Ossetia
2020 - Raul Khadzhimba becomes second president in six years to be forced from office by public protests