France Hollande: Ayrault government takes pay cut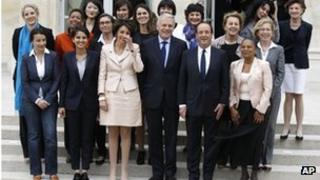 France's new government has held its first cabinet meeting and announced a 30% pay cut for President Francois Hollande and all his ministers.
A campaign promise, the cut reduces Mr Hollande's monthly salary from 21,300 euros to 14,910 (£12,000; $19,000).
The cut contrasts sharply with predecessor Nicolas Sarkozy's decision to increase his pay on entering office.
But the opposition UMP party argues that the new government has 14 more posts than Mr Sarkozy's first cabinet.
UMP Secretary General Jean-Francois Cope said that the wage cut could not hide the reality.
"Francois Hollande's government is going to cost a great deal more to the taxpayer. As well as the extra 14 ministers, you have to add the dozens of extra colleagues."
However, it has also been pointed out that the outgoing government included 31 posts, three fewer than the one that started work on Thursday.
The pay cut was one of a number of steps announced by Mr Ayrault's government. Another was a code of conduct against conflicts of interest.
"We are here not only to manage the country, but to reform it, to overcome privileges and to improve the lives of the French people," said women's rights minister Najat Vallaud-Belkacem. Another minister spoke of "showing an example".
EU conference call
The new government comes into office at a critical time for the eurozone and with the declared aim of shifting EU policy on tackling the debt crisis.
Finance Minister Pierre Moscovici was clear that France wanted to renegotiate the EU's fiscal pact on debt discipline. "The treaty will not be ratified as is. It must be added to, completed with a growth amendment," he said.
The eurozone crisis has already risen to the top of Mr Hollande's agenda, with a video-conference call on Thursday involving the leaders of Germany, the UK, Italy and the EU.
The call, originally planned by European Council President Herman Van Rompuy in advance of the G8 summit in the US, came as doubts surrounding Greece's future membership of the euro affected Spain and Italy.
Spain officially entered recession on Thursday and shares in Bankia plunged, less than a week after the bank was taken over by the government. Bank shares fell in both Spain and Italy.
Significantly, Thursday's cabinet meeting in Paris was the first in which an equal number of men and women took part, another of President Hollande's campaign promises.
"It's a left-wing government that brings about parity - that's worth underlining: and it's a major, historic event too," said former Socialist presidential candidate Segolene Royal.