Giraffes die of stress after Polish zoo break-in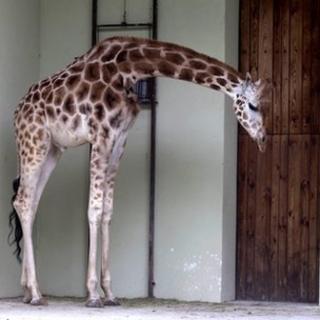 Two female giraffes have died after a zoo in the central Polish city of Lodz was raided by vandals.
One died of a heart attack just hours after the break-in, while the other was found dead on Monday after stress exacerbated a medical condition, officials said.
The zoo is looking for a companion for the remaining male giraffe.
Authorities are investigating the break-in, in which vandals threw debris into the animal enclosures.
According to Polish media, a famous private detective has said he had been asked to join the search.
Krzysztof Rutkowski, who has starred in a Polish TV series, said steps had been taken to find those involved, after he was asked by animal rights activists to help.
The mayor has meanwhile offered a reward for anyone who can help identify those who took part in the raid, Polish radio reports . There is no CCTV at the zoo.
Zoo director Ryszard Topola said that the three giraffes, from the endangered Rothschild giraffe subspecies, had been kept together as companions, and that the hope had been that one of the females might produce offspring.
"This is a very sad occurrence to us, a great loss," Mr Topola told AP news agency.
He said three-year-old Suri was found dead early Sunday, with a post-mortem indicating that it died of stress and a heart attack.
Six-year-old Hana, who had been receiving treatment for parasites, died early on Monday, but the stress contributed to the death, Mr Topola said.
During the raid, unidentified hooligans threw benches and bins into animal runs, including one near the giraffe enclosure.
Zoo Deputy Director Wlodzimierz Stanislawski said they were searching for a companion for six-year-old male Tofik, the sole survivor.
He said they were checking with other European zoos in an attempt to provide a replacement, but said it was a "tough task".