Profile: Scheveningen prison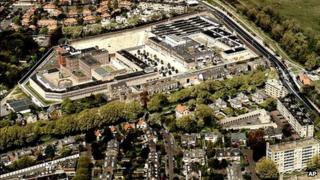 Scheveningen jail is a temporary holding bay for some of the world's most notorious war crimes suspects.
The former Bosnian Serb General, Ratko Mladic, has been a resident here for almost a year.
He spends his time reading newspapers, chatting to other prisoners and playing chess. Discussions about potentially sensitive subjects like politics are banned.
One jovial security guard (who will remain nameless) once told me they call Scheveningen the Hague Hilton on account of its relatively luxurious facilities, especially when compared to those in the guests' home countries.
Inmates can play table football, they have access to a wide range of reading materials in the library, there is a fitness instructor on hand to help them work out in the gym and there is even a conjugal room enabling couples to enjoy some private time together.
The political leader of the Bosnian Serbs, Radovan Karadzic, is also a resident at Scheveningen.
He and Gen Mladic have passed each other in the corridors but their cells are on different wings so they do not really get the chance to chat.
Mr Karadzic's lawyer has told me his client wishes he could spend more time with his old ally so he could share some advice on how to cope with life inside.
'Special dishes'
The prison is situated in the picturesque seaside town of Scheveningen.
It is part of an old jail where Dutch resistance fighters were imprisoned by the Nazis.
Inmates are locked up in their cells from 21:00 to 07:30 when they are woken for breakfast.
Meals are provided, detainees can also purchase food from the prison shop and are allowed to order special dishes that suit their "cultural and dietary requirements".
A lawyer for Charles Taylor, the former Liberian president who was recently convicted of aiding and abetting war crimes during the Sierra Leone civil war, once complained about the menu saying the food was "completely eurocentric and not palatable to the African palate".
Standard rooms are around 10 sq m (107 sq ft) in size.
They contain a wash basin and toilet, satellite television and radio for entertainment, a single bed and a computer to allow prisoners to work on their cases.
Inmates from other conflicts include Charles Taylor and Germain Katanga, a former rebel leader in the Democratic Republic of Congo.
The most recent detainee to arrive at Scheveningen is former Ivory Coast President Laurent Gbagbo, now awaiting trial on war crimes charges relating to the violent uprising that occurred after the 2002 elections.
Each court has its own cells although allocations can change depending on demand.