Stormy start to Hollande presidency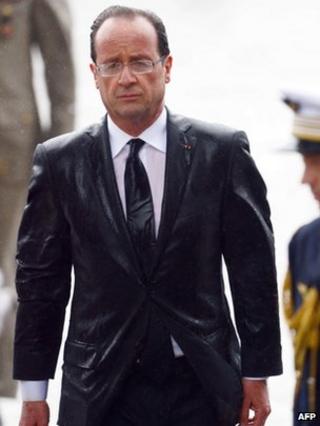 Somehow it is fitting that Francois Hollande did not come to power on a happy, glorious Paris spring day, with the sun shining and all looking for the best in the best of all possible worlds.
If he had, it might have lent a misleading air of optimism about the new political era.
As it was, it was grim. "Hail to the chief" took on a whole new meaning, as Mr Hollande got a soaking at the tomb of the Unknown Soldier at the Arc de Triomphe in Paris.
Umbrellas snapped inside-out. Rain blurred the lenses of 1,000 television cameras. It was less of a bright new dawn, more of just another wretched day in the city.
But it was fitting, because no-one in France - least of all the socialists themselves - wanted to dress the inauguration up as a miraculous moment of change.
Dream over
Comparisons abound with the start of the Mitterrand presidency in 1981. But back then there really was a whiff of revolution in the air, and a dream of a happier time to come.
Today the atmosphere reflects 30 years of accumulated disappointments.
Everyone knows France is in a depressing state. Everyone knows that there is more discomfort to come.
All that can be hoped for is slow, methodical crisis management. The dreaming time is over.
Perhaps to ward off the awful moment, Mr Hollande spent his first day in office a bit like he was on the final day of his campaign.
For the last time, at the Elysee Palace and then afterwards, he was able to touch on those election themes - justice, youth, education, national unity - that he knows create a warm feeling among his audience.
In three separate speeches, he dwelt on how his presidency will differ from his predecessor Nicolas Sarkozy's by being more open, more inclusive, more modest.
He visited memorials to two of his heroes - the 19th-Century education reformer Jules Ferry and the great Polish-French scientist Marie Curie - as if to inspire himself from their example.
And at each stop he dived into the crowd - never large ones, it has to be said - for handshakes and autographs and a last reminder of what it is like to be a freshly-minted leader.
Ominous weather
He seemed in his element, but when you looked closely you could see that the new president had changed.
Before, his bonhomie played a crucial role in making him electable.
He was always affable, at ease - and even when talking of serious issues, able to crack a joke.
Today he looked already worn down by the looming responsibilities. It was not just the rainstorms. He looked grim as well.
Finally, after a long speech before his political friends at the Paris city hall, it was over.
The celebrations were done, and it was into the Citroen limousine for the drive through the rain to Villacoublay airport and a plane to see Angela Merkel.
Half an hour later he was back on the tarmac. The jet taking him to Germany had been struck by lightning.
Let us hope the new French president is not superstitious, because the weather omens do seem to be making a point.