Lithuania leader visits Tymoshenko in Ukraine hospital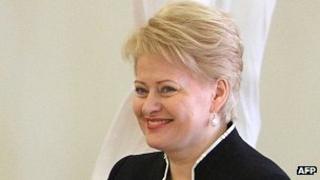 Lithuania's president has visited the jailed Ukrainian opposition leader Yulia Tymoshenko, who is in hospital in eastern Ukraine.
Dalia Grybauskaite said Ms Tymoshenko was in a good mood, but the Lithuanian leader warned that "Europe's trust in Ukraine is dwindling".
On Wednesday Ms Tymoshenko ended a 20-day hunger strike after being moved to a hospital in Kharkiv. The former PM is being treated by a German doctor.
The EU has chided Kiev over her plight.
President Grybauskaite is the first foreign leader to visit Ms Tymoshenko in hospital, where she is being treated for chronic back pain.
Ms Tymoshenko played a key role in the pro-Western Orange Revolution in 2004 and says her imprisonment is an act of political revenge by Ukraine's President Viktor Yanukovych.
She accused prison staff of beating her during an earlier attempt to move her to hospital.
"Ukraine's European perspective will depend on such factors as ensuring for Yulia Tymoshenko the right to adequate medical treatment," Ms Grybauskaite said.
Several hundred supporters of Ms Tymoshenko were outside the hospital as Ms Grybauskaite arrived. They held placards demanding freedom for Ms Tymoshenko and an end to "political repression" in Ukraine.
Ms Grybauskaite is due to meet President Yanukovych later on Friday in the capital Kiev.
The authorities have rejected Ms Tymoshenko's allegations. She was jailed for seven years in October, for abuse of power during her time as prime minister.
Tensions over her treatment have overshadowed preparations for next month's Euro 2012 games in Ukraine and Poland, with several European leaders threatening a boycott.
Kiev called off a European summit that was to take place in Yalta next week, after several leaders announced a boycott over Ms Tymoshenko's treatment.