Italian man becomes mayor by accident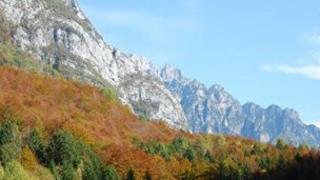 The new mayor of a mountain town in northern Italy has been voted in almost completely by accident.
Fabio Borsatti, 50, stood in Cimolais as a last-minute favour to the only candidate, worried not enough people would vote if he stood unopposed.
But, despite even Mr Borsatti's own family voting for his rival, the unlikely candidate won the poll.
He only realised he had become mayor when people telephoned him, as he was watching football, to congratulate him.
"I find myself a mayor who didn't want to be a mayor," Mr Borsatti said.
"I wanted Gino [Bertolo] to win. Even my relatives voted for him.
"My daughter, my sister, my father and my mother - they all voted for him."
But in the poll, Mr Borsatti obtained 160 votes - securing almost 58% of the vote - compared with just 117 votes for his good friend, Mr Bertolo.
Mr Borsatti has said he has no plans to resign and intends to carry out his duties for the 507 people who make up the population of Cimolais, in Friuli Venezia-Giulia.
Though he had not given much thought to a political platform before the vote, now he is in office he has said that he will focus on promoting tourism to the area.
His friend, a former mayor of Cimolais, has said it was an honour to take part in the vote.
"I wasn't upset... Something apparently unusual happened but it is nothing to joke about," Mr Bertolo said.