Breivik trial: Survivors relive Norway massacre horrors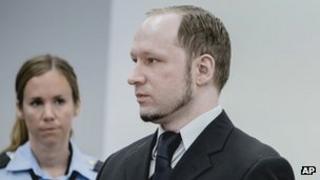 Survivors of Anders Behring Breivik's shootings in Norway have been reliving the horrors of last year's massacre as they testified at his trial in Oslo.
One survivor said she was so close to the gunman on the Utoeya island that she heard him walking quietly around "doing away with people".
Many relatives had earlier been in tears as the court heard coroners' reports about the victims.
Breivik admits killing 77 people, but denies criminal responsibility.
He killed 69 at a youth summer camp on Utoeya and eight in a bomb attack in Oslo earlier the same day, 22 July 2011.
Breivik says he was fighting to defend Norway from multiculturalism and immigration.
He claims that the Labour Party youth meeting at which he committed the massacre was a "legitimate target" because of its support for multiculturalism.
'Stone face'
On Thursday, survivors recounted harrowing details of the day they believed would be their last one.
"I thought it was just a question of time before I was hit," one said.
Testifying later, Lars Henrik Rytter Oeberg, another survivor, said Breivik had "a stone face" when he tried to shoot him.
Mr Oeberg, who eventually managed to escape by swimming, said he and his friends were paralysed when Breivik opened fire near Utoeya's pump house.
He said that - as he held on to a pontoon very close by - he saw Breivik shoot and kill 14 people.
"I see a boy crouching by a rock, he covers his head. The perpetrator goes up to him and shoots him in the head, I see the boy falling."
Mr Oeberg said he later realised that most of his friends "are no longer alive".
Sanity dispute
Earlier on Thursday, many relatives of the victims and one of the prosecutors were in tears as the court heard post-mortem reports.
The trial's outcome hinges on whether the court finds Breivik to have been sane or not, as it could determine whether he is sent to prison or to a psychiatric institution if found guilty.
An initial psychiatrists' report on Breivik declared him insane and not legally responsible, but a second evaluation came to the opposite conclusion.
Breivik seeks to prove he was sane, in order to prove his actions were motivated by a political doctrine.