Thirteen Paris firefighters held over 'hazing rape'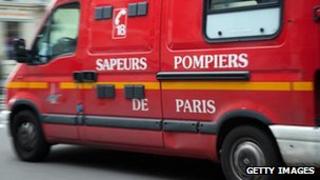 Thirteen firefighters have been detained in France in connection with the alleged rape of a new recruit, officials say.
The attack, said to have taken place on a coach returning from a sports competition, was caught on a mobile phone, according to legal officials.
The man alleged he was raped by one of the group in an initiation ceremony that went wrong, reports say.
The Paris fire brigade said the incident was "particularly serious".
It said there would be a thorough investigation into the matter.
'Pinned down'
The firefighters had been part of a sports team travelling back from a gymnastics competition in Colmar in eastern France when the alleged attack took place.
As part of the alleged hazing incident, the young man was stripped and bitten, according to Le Parisien newspaper.
When he protested, several other young firemen pinned him down while one man sexually assaulted him. According to the claims, an officer was present but did not intervene.
Commentators say the affair threatens to damage the reputation of the Paris brigade, which has an 8,500-strong staff of men and women. Firefighting is one of France's best-regarded professions and the Paris brigade is highly thought of.
Two investigations are under way: one involving the Paris prosecutor and a separate, internal inquiry by the fire brigade.