Euro MPs criticise managers of EU agencies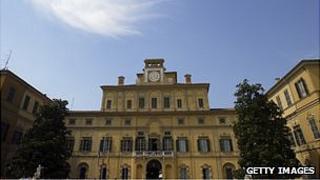 The European Parliament has delayed approval of three major EU agency budgets because of concerns about their managers.
MEPs have criticised one of the agencies - the European Food Safety Authority (EFSA) - for links to the food industry, considered a possible risk to EFSA's independence.
The head of EFSA's board, Diana Banati, resigned on Wednesday.
She is joining a powerful industry lobby group based in Washington DC.
EFSA is based in a grand old palace in Parma, Italy, and its total budget in 2010 was 74.7m euros (£60m; $97m).
The other agencies criticised by MEPs are the EU Medicines Agency, based in London, and the Environment Agency, in Copenhagen.
Conflict of interest?
The parliament's budget committee said it was "seriously concerned" that in 2010, while the Environment Agency's executive director, Jacqueline McGlade, was "directly involved" with Earthwatch, an environmental NGO, she and 28 agency staff went on research trips to Earthwatch projects and the agency paid 33,791 euros to the NGO.
The committee urged the agency to publish the declarations of interest provided by its staff, to help prevent any conflicts of interest.
A parliament spokesman told the BBC that the budget delay - refusing to "grant the discharge" in EU jargon - could have a negative impact on an agency's 2013 budget.
The MEPs' budget committee could decide to put part of the agency's budget in reserve and put a block on the agency hiring new people, he said.
Such a move means "the prestige of the agency is not good," he added.
MEPs' concerns about potential conflict of interest have dogged EFSA.
An EFSA statement said Ms Banati resigned at EFSA's request, in line with the agency's code of conduct, which warns against "activities which could raise doubts about their independence, even with respect to potential conflicts of interest".
In a statement later Ms Banati insisted that "the totally correct decision to resign was mine". She denied that she had been asked to go.
She is moving to the International Life Sciences Institute (ILSI), a body which acts on behalf of numerous food and biotech multinationals, including Danone, Kraft Foods, Monsanto, Nestle and Procter & Gamble.
A report by the parliament's budget committee , issued before Ms Banati's resignation, raised questions about her links with ILSI, going back to 2010.
It said she had "failed, in 2010, to declare her membership of the Board of Directors of the ILSI".
It called the EFSA board's scrutiny of its members' declarations of interest "insufficiently rigorous and detailed".
And the MEPs urged EFSA to cut the "unacceptable" cost of board meetings, pointing out that each meeting of the 15-member board cost on average 92,630 euros.
Objectivity questioned
EFSA's product assessment was also found wanting. The MEPs said it "should not be based solely on industry data, but should duly take into account independent scientific literature published in peer-reviewed journals".
Martin Pigeon, a researcher with a Brussels-based transparency group, Corporate Europe Observatory, called Ms Banati's move to ILSI "scandalous".
"She's moving without any cooling off period - she will be lobbying the very administration she was chairing until today," he told the BBC.
He said his group's research had found evidence of ILSI influence at EFSA.
"Most documents used by the EFSA to assess risk are actually industry studies," he said, adding that those studies were often subject to commercial secrecy.
EFSA insists it now has mechanisms in place to safeguard the independence of its scientific advice.
Last December the European Ombudsman, Nikiforos Diamandouros, criticised EFSA over one of its managers who had moved to a biotechnology company in 2008.
He said EFSA should have done more thorough screening of Suzy Renckens, who had headed EFSA's Genetically Modified Organisms (GMO) Unit.
In its reply EFSA regretted its "oversight" in the Renckens case, and said it had tightened up its procedures since then to prevent conflicts of interest.
Parliament projects
The parliament's own budget got the thumbs-up from the MEPs' budget committee, though some items of spending were criticised.
The parliament's new visitors' centre - the Parlamentarium in Brussels - finally opened in October 2011, two years late.
The committee said its total estimated cost was 20.5m euros - much more than originally planned.
The MEPs called for "safeguards so that other multi-million euro plans will not see similar increases".
They also voiced concern about a new prestige project - the parliament's House of European History in Brussels. They called for more information about its budget, "especially in light of the complications raised by the subterranean Maalbeek River flowing under the building's foundations".