Anders Behring Breivik trial: Day by day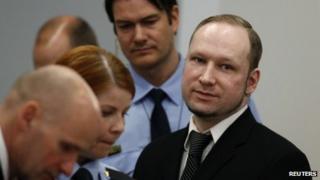 The man who killed 77 people in Norway last July has pleaded not guilty to acts of terrorism and mass murder. Anders Behring Breivik admits carrying out a bombing in the capital, Oslo, and going on a shooting rampage on the island of Utoeya, but denies criminal responsibility.
If the court decides he is criminally insane, the 33-year-old Norwegian will be committed to psychiatric care; if he is judged to be mentally stable, he will be jailed if found guilty.
Here is a summary of events in court.
Wednesday 9 May
For the first time, the court hears testimony from those who survived the attack on Utoeya island.
Labour youth leader Tonje Brenna, who organised the event targeted by Breivik, described hiding from the killer in rocks near the lake shore as the bodies of victims fell around her.
Local resident Oddvar Hansen told the court how people trying to swim away from the massacre had cried and waved for help.
Bjoern Ihler said he and two boys had swum to safety after Breivik approached them, pretending to be a policeman, but then calmly pulled a gun.
As on previous days, Breivik remained impassive throughout the survivors' accounts, but complained about being unable to question the witnesses directly.
Tuesday 8 May
For a third day, the court is told about the autopsies on the Utoeya massacre victims, including that of a 17-year-old girl who was attending her first Labour youth event.
Another 17-year-old found dead on the island was a cheerleader at school and planned to go on study in the United States.
Monday 7 May
The Breivik trial continues to hear coroners' forensic reports on those who died on Utoeya.
Among the fates detailed where that of a 15-year-old boy who was the youngest to die on Utoeya.
Freddy Lie, the father of a 16-year-old girl who died on the island, said his daughter had talked to him on her mobile phone just before she died.
Friday 4 May
The court begins hearing coroners' reports about the autopsies on the 69 people killed on Utoeya Island.
Lawyers for their families read out descriptions of those who died and showed pictures to the Oslo court.
One young girl, sitting just metres away from Breivik in the courtroom, listened to how her mother died. As on previous days, Breivik seemed unmoved by the evidence.
Coroner Torleiv Ole Rognum said the average age of the victims was 18.
Thursday 3 May
Witnesses told how they helped Breivik get to Utoeya island because they thought he was a police officer.
Breivik was wearing a uniform and showed fake identification papers to a security guard at the quay, who then summoned the ferry.
The ferry captain, Jon Olson, described how he helped Breivik carry a case, which proved to be full of weapons, on to the island.
Mr Olson's partner was one of the first to die at the youth camp on Utoeya and his daughter was also there.
Thursday 26 April
The trial heard harrowing testimony from people wounded in the Oslo bomb attack.
Breivik appeared unmoved as a father, Jan Erik Lund, spoke of seeing his daughter Anne Helene seriously injured in hospital.
About 40,000 people gathered on a central Oslo square to sing a popular old peace song, Children Of The Rainbow, which Breivik had mocked in court.
The singer Lillebjoern Nilsen, accused by Breivik of being a Marxist who sought to brainwash children, led the singing on Youngstorget Square, close to the courthouse.
Wednesday 25 April
Breivik sought to persuade the trial that he was sane, insisting that his actions were motivated by a political ideology, and that he was accountable for them.
He dismissed an initial psychiatric report that found him insane as "a lie".
He said his argument was "entirely logical" and there was "not the slightest possibility" he would be judged insane.
Breivik said the compilers of the report had no experience in dealing with political extremists and, because they had spoken to him so soon after the attacks, they themselves were still in shock.
Tuesday 24 April
Security guard Tor Inge Kristoffersen described the moment the car bomb exploded at Norway's government headquarters.
He watched on CCTV as a car parked and a man wearing what looked like a guard's uniform got out.
Mr Kristoffersen said: "Half of our screens, the images disappeared. There was a deep rumbling, the entire block shook, the ceiling bent like water."
The police officer who co-ordinated the emergency response, Thor Langli, also gave evidence describing how the bomb squad searched for more bombs.
He said a witness saw a small car leave the area, but he felt he could not take any officers away from the site to follow this up.
He suggested if CCTV footage had been relayed live to the police, this might have saved vital minutes and could have given them the opportunity to pursue the car.
Monday 23 April
On the last day of giving evidence, Breivik justified his acts as "a small barbarian act to prevent a larger barbarian act".
Saying the killings had been a "gruesome" experience for him as well, he explained how he had to force himself to do something which felt so "against human nature".
He offered an apology for "innocent" people who died in the Oslo bombing, referring to those who were passing by and who had no political connections. But asked if he extended that apology to those he killed on Utoeya, he said: "No, I do not."
He reiterated his belief that they were "legitimate targets", and added that there were many others in Norway "who deserve to be executed, eg journalists and members of parliament".
He said he understood the loss he had inflicted on victims' families because he had lost his own family and friends after the attack.
Friday 20 April
Breivik described his rampage on Utoeya in chilling detail. Before shooting his first two victims, he said he had "100 voices" in his head telling him not to do it - but pulled the trigger anyway.
Displaying no emotion, Breivik said he proceeded to go to a cafe where several people were hiding, "completely paralysed" with fear.
He said he reloaded his gun after running out of ammunition and killed people as they were begging for their lives. He also shot in the head others who pretended to be dead.
Breivik - who was dressed as a police officer - continued his rampage around the island, luring youths from hiding places by telling them he was there to protect them.
When they came out, he told the court, "I shot towards many of them aiming at their heads."
Thursday 19 April
Breivik said he intended hundreds should die in his attack on the Labour Party summer camp, and that a primary target was a former prime minister, Gro Harlem Brundtland.
He claimed he planned to behead Mrs Brundtland, who he thought would be on the island, and post a video of this on the internet. In fact the ex-PM left Utoeya before Breivik arrived.
He also hoped his car bomb in Oslo would kill the entire government.
Breivik told the court he used computer games to rehearse scenarios ahead of his attacks. He said he had planned three car bombs but opted instead for one bomb attack and one gun attack when he discovered how difficult it would be to make the bombs.
The BBC's Steve Rosenberg, at the trial, said Breivik was behaving differently from his irritable performance on Wednesday and he seemed calm.
He abstained from giving his usual salute as proceedings began, following a request by the defence team.
Wednesday 18 April
The prosecution continued its cross-examination of Breivik by trying to disprove his claim of the existence of a far-right European network.
They also questioned him on his supposed contacts with Serb nationalists in Liberia, and with English nationalists in London.
Breivik was also questioned about his religious beliefs by a lawyer for the victims. He said he wanted to prevent the "de-Christianisation of Europe".
The BBC's Matthew Price, who was in court, said Breivik appeared to be on the back foot - less relaxed than before, and more defensive.
Breivik also told the court that there could be only two "just" outcomes to his trial - acquittal or the death penalty.
Tuesday 17 April
Proceedings were delayed while the court decided to dismiss a lay judge over remarks made on a social networking site suggesting Breivik should be given the death penalty.
Breivik then took the stand and delivered a 13-page statement explaining his political views.
In it, he said that he would do it all again, that his actions were "based on goodness, not evil", and that he had acted to defend Norway against immigration and multiculturalism.
The prosecution then began its cross-examination. They cast doubt on his membership of an organisation called Knights Templar, which they assert does not exist.
His testimony and that of his witnesses was not broadcast.
Monday 16 April
Anders Breivik pleaded not guilty to the charges. He told the court he "acknowledged" the acts committed, but said he did not accept criminal responsibility. He said he acted in self-defence.
Dressed in a dark suit, he smiled and appeared calm as he entered the court and gave a closed-fist salute.
Breivik showed no emotion as harrowing details of how he killed and injured his victims were read out, but later wiped away tears as the court was shown a video he made about multiculturalism prior to the attacks.