Greek election: Antonis Samaras coalition bid fails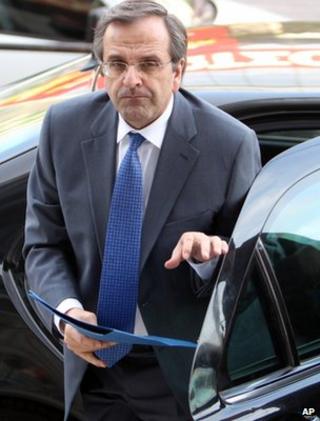 Greek centre-right head Antonis Samaras has said he cannot form a coalition government, dealing a blow to backers of the country's international bailout.
His New Democracy emerged as the biggest party after Sunday's vote, but he said a coalition was "impossible".
Far-left group Syriza, which is opposed to austerity measures, will now try to form an anti-bailout coalition.
Voters in Greece, France and Italy have all largely swung in favour of anti-austerity candidates this week.
In Greece, both New Democracy and former coalition partners Pasok, the traditional parties of power, saw their support drain away in favour of radical parties on the left and right.
France's President-elect Francois Hollande said in his victory speech that he would seek an alternative to austerity.
And partial results from local elections in Italy suggest a marked swing away from mainstream parties. An anti-euro protest movement led by comedian Beppe Grillo made significant inroads in Parma and Genoa.
'Barbaric' measures
Reacting to the election results, German Chancellor Angela Merkel said austerity measures were "not negotiable" and described Greece's reforms as of "utmost importance".
Markets slumped following the election results in France and Greece, but largely recovered later. The Athens stock exchange, however, had plunged 6.67% by the end of the day.
In return for two EU/IMF bailouts worth a total of 240bn euros (£190bn; $310), Greece agreed to make deep cuts to pensions and pay, raise taxes and slash thousands of public sector jobs.
The financial chaos sparked huge social unrest, and led to a deep mistrust of the parties considered to be the architects of austerity.
Mr Samaras said his party had done "everything possible" to form a government.
"I tried to find a solution for a government of national salvation, with two aims: for the country to remain in the euro and to change the policy of the bailout by renegotiation," he said in a televised address.
"We directed our proposal to all the parties that could have participated in such an effort, but they either directly rejected their participation, or they set as a condition the participation of others who did not accept."
While Syriza, which came second, rebuffed Mr Samaras, some of the smaller left-wing parties refused to even meet him.
President Karolos Papoulias has now arranged a meeting for Tuesday morning with Syriza's Alexis Tsipras.
Mr Tsipras will be given three days to negotiate a coalition, and he promised to stitch together a left-wing coalition to reject the "barbaric" measures associated with the EU/IMF bailout deal.
"We will exhaust all possibilities to reach an understanding, primarily with the forces of the left," he said.
But analysts say he is likely to struggle to reach the numbers needed for a cross-party majority.
The BBC's Mark Lowen in Athens says Greece's political crisis is deepening, and the likelihood of fresh elections is growing ever stronger.
Despite emerging as the biggest party, New Democracy's support slipped from 33.5% in the last election to less than 19% on Sunday.
Support for the centre-left Pasok, which also supported the austerity measures, plummeted from 43% to just over 13%.
Syriza took 16.8%, while fellow anti-bailout party, the ultra-nationalist Golden Dawn, won almost 7%.