Italian nuclear boss shot and wounded in Genoa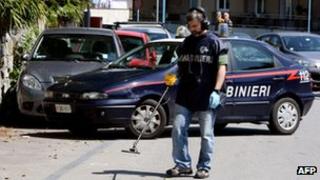 The head of an Italian nuclear energy company has been shot and wounded leaving his home in the northern Italian city of Genoa.
Roberto Adinolfi, 53, was shot in the leg by a gunman on a motorbike but is said not to be in a serious condition.
Ansaldo Nucleare is part of aerospace and defence giant Finmeccanica.
No group has said it carried out the attack but investigators quoted in media reports suggest anarchists may have been behind it.
The anarchist movement has a strong presence in the port city and, according to Italian news agency Ansa, police were examining recent pronouncements by some anarchist groups calling for "a shift to a new phase that could lead to armed action".
The shooting happened shortly after 08:30 (06:30 GMT) as Mr Adinolfi was leaving his house.
He was approached by a motorbike carrying two people wearing helmets one of whom fired three shots at him. He was hit in the leg just above the knee.
The head of parent company Finmeccanica, Alessandro Pansa, said it was an extremely worrying development.
"If this attack was linked to a political or social dispute this would be very serious, something unseen for years and the result of an extremely complex climate and a difficult situation in the industrial sector," he said.
He added that his colleague had been operated on and was not in a serious condition.