Man charged with shooting immigrants in Malmo Sweden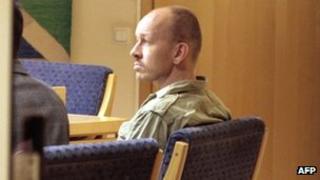 A Swedish man accused of shooting immigrants in the city of Malmo has been charged with three accounts of murder and 12 accounts of attempted murder.
Peter Mangs, 40, was arrested following a tip-off from a member of the public and months of investigation.
Chief prosecutor Solveig Wollstad says the motive for the attacks is not clear but most of the victims had a foreign background.
The suspect denies any wrongdoing.
The shootings made headlines in Sweden, spreading fear among immigrants about going out at night and sparking sharp criticism of the police.
Malmo's large immigrant community was terrorised by the attacks, which happened mostly in 2009 and 2010.
After the arrest of Peter Mangs, police linked him to two murders in 2003.
Investigators believe he acted alone and say he shot his victims in car parks, while they walked on the street or through the windows of shops and apartments.
Among those killed was Trez West Persson, a 20-year-old woman shot in October 2009 while sitting in a car near a mosque. A dark-skinned friend sitting beside her was seriously injured.
Police inspector Borje Sjohlm said the suspect used different barrels for his gun, which made it difficult to track him down.