French election: Sarkozy and Hollande keep silence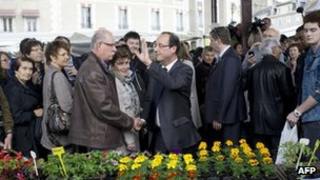 French President Nicolas Sarkozy and his challenger Francois Hollande are observing a mandatory election silence ahead of Sunday's run-off vote.
Mr Sarkozy is spending the day with his family, while Mr Hollande visited a market in the central town of Tulle, his political stronghold.
National Front leader Marine Le Pen, who came third in the first round, says she is not endorsing either candidate.
But Mr Hollande has secured the backing of the fourth and fifth candidates.
A day before the election, media in France are obliged to refrain from any reporting which might prejudice the ballot until the close of polls on Sunday evening.
'Long overdue'
Mr Sarkozy, the conservative incumbent, said on Friday that he would spend the day with his wife, Carla Bruni, and their daughter.
"Minimum public - and maximum private - service, frankly, they deserve it," he told Europe 1 radio.
His Socialist challenger, Mr Hollande shook hands with supporters at the market in Tulle and embraced well-wishers.
One of the stall-holders at the market told him he was ready to become the official supplier of chicken to the Elysee palace.
If Mr Sarkozy loses, he will become the first French president since Valery Giscard d'Estaing in 1981 not to win a second term.
Both the president and Mr Hollande have reached out to voters who backed the far-right National Front (FN) and its leader Ms Le Pen.
She has already said she will be leaving her ballot blank rather than vote for Mr Sarkozy or his rival.
Ms Le Pen attracted 6.4 million votes in the first round. The party currently has no seats in the French National Assembly, which is dominated by Mr Sarkozy's conservative UMP party.
Mr Sarkozy and Mr Hollande engaged in a heated televised debate on Wednesday night, watched by an estimated 17.9 million people.