Gay rights campaigner fined in Russia for 'propaganda'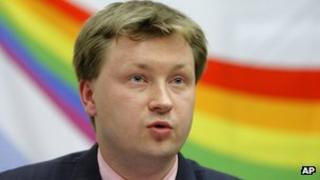 A court in St Petersburg has fined Russia's best-known gay rights campaigner for spreading "homosexual propaganda" among minors.
In the first ruling of its kind, Nikolay Alexeyev was fined 5,000 roubles (£105; $170; 129 euros) after being arrested under the new ban.
He pledged to appeal against the decision, going to the European Court of Human Rights if necessary.
The ban enacted this year by local lawmakers drew international protests.
While it is still only a local law, other regions of Russia such as Novosibirsk have passed similar legislation.
Mr Alexeyev, who has unsuccessfully campaigned for the right to hold a Gay Pride parade in Moscow, was detained last month when he went to St Petersburg's city hall with a placard reading "Homosexuality is not perverted".