New rape claim in Strauss-Kahn inquiry in France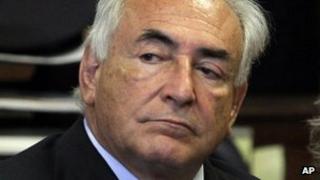 Magistrates in France have asked for a new investigation into alleged rape involving former IMF chief Dominique Strauss-Khan.
The magistrates in Lille are already investigating Mr Strauss-Kahn over his suspected role in a prostitution ring.
A Belgian prostitute has alleged that "DSK" and three of his associates gang-raped her in Washington DC in December 2010, French media report.
Mr Strauss-Kahn's lawyers released a statement denying the accusations.
Prosecutors are considering whether to expand the current Lille investigation.
A second Belgian prostitute has partially confirmed the witness statement alleging gang rape in Washington, but neither has sought to press charges.
Last year Mr Strauss-Kahn abandoned plans to run as the Socialist candidate for the French presidency after he was accused of attempted rape in New York.
Although the criminal case against him was dropped, the affair sank his hopes of becoming president and forced him to resign as head of the International Monetary Fund (IMF).
In March of this year, Mr Strauss-Kahn was also placed under formal investigation in France over alleged involvement in a prostitution ring.
He has admitted attending parties where the authorities believe prostitutes were provided by a gang, but denies knowing that they were prostitutes.
The three associates named in the Lille investigation along with Mr Strauss-Kahn are businessmen Fabrice Paszkowski and David Roquet and policeman Jean-Christophe Lagarde.
The alleged Washington incident also concerns all four.
'Desire for a lynching'
Mr Strauss-Kahn's lawyers said their client "absolutely contests having committed the slightest act of violence of any nature whatsoever".
They said the testimony from the witnesses was contradictory, and denounced the accusations.
"Distorted information, manipulation and a desire for a lynching cannot forever be a substitute for reality," the lawyers added.
Washington police said they had had no report of any incident in the hotel named by the French investigation, nor did they know of any accusation against Mr Strauss-Kahn in the city.
A prosecutor can either dismiss the allegation or order a preliminary inquiry to establish if there is enough prima facie evidence to expand the original investigation, the AFP news agency reports.