Euro 2012: Ukraine denounces 'destructive' boycott threat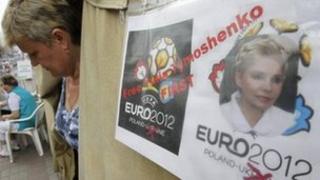 Ukraine says a threatened EU boycott of Euro 2012 football matches it is hosting next month is "destructive".
In a statement, the foreign ministry said the move would undermine the image of the tournament and be detrimental to millions of Ukrainians and Poles.
Poland - which is co-hosting the event - has also criticised any boycott.
Several European leaders are considering cancelling their trips to Ukraine, in protest over the treatment of jailed former PM Yulia Tymoshenko.
Ms Tymoshenko, whose trial last year was condemned as politically motivated, is on hunger strike after allegedly being beaten by prison guards.
'Loss for millions'
The statement from the Ukrainian foreign ministry said sport events were designed to bring unity, and criticised what it said were attempts to politicise them.
"We view as destructive attempts to politicise sporting events, which since ancient times have played a paramount role in improving understanding and agreement between nations," the statement said.
"A successful championship will be a victory not for politicians, parties or ideologies, but for all Ukrainians and Poles. Its failure will be a loss for millions," it said.
There has been mounting pressure over the case of Ms Tymoshenko.
Austria and Belgium have already said they will not attend the games. The Dutch government said it would boycott it unless there was significant improvement in Ms Tymoshenko's human rights.
European politicians, including European Council President Herman Van Rompuy and European Commissioner Jose Manuel Barroso, have also cancelled their trips.
The UK and Germany say they have not yet made a decision, but both countries have expressed concern over Ms Tymoshenko's situation.
On Thursday, German Chancellor Angela Merkel would not confirm whether she would attend.
"Much more important than my travel plans is that we must now do everything possible to see that Yulia Tymoshenko gets the proper treatment for her medical problems as soon as possible," Mrs Merkel was quoted as saying by the Koelner Stadt-Anzeiger newspaper.
"The German government has been working on this for weeks and our offer stands for her to receive this medical treatment in Germany."
Also on Thursday, Russian Prime Minister and President-elect Vladimir Putin said Russia would be willing to offer Ms Tymoshenko treatment, but said he opposed calls for a boycott.
Meanwhile, five European presidents - from Austria, the Czech Republic, Germany, Italy and Slovenia - have said they will not attend a Ukrainian summit of Central and East European leaders next week in Yalta.
'On track'
But Ukraine's deputy prime minister has said Euro 2012 is on track and Uefa - European football's governing body - had not complained.
"The tournament is ready and on 11 May we will be transferring the control of the four stadia to Uefa," Borys Kolesnikov told AFP news agency.
Tymoshenko, a former prime minister, was jailed last year for abuse of office, in a trial condemned by the West as politically motivated.
She is an arch-rival of Ukraine's President Viktor Yanukovych, who beat her to the presidency in February 2010, avenging his defeat in the 2004 Orange Revolution.
The opening games of the month-long Euro 2012 will be played on 9 June.