Belarus profile - Media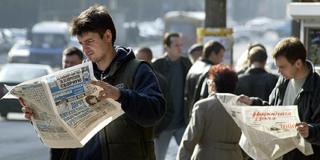 Belarus has been heavily criticised by rights bodies for suppressing free speech, muzzling the press and denying the opposition access to state media.
Reporters Without Borders (RSF) ranks Belarus 157th out of 180 countries in its 2016 World Press Freedom Index.
Freedom House says the "state-dominated mainstream media consistently glorify [President] Lukashenko and vilify the political opposition".
TV is the main news source. The nine national channels are state-controlled. Their main competitors are Russian networks. Most Russian bulletins are not rebroadcast live, allowing censors to remove content.
Belsat, a Polish-funded satellite TV station, has struggled to obtain official registration with the Belarus authorities.
Newspapers owned by the state vastly outnumber those in private hands. Private titles include embattled pro-opposition paper Narodnaya Volya.
There were around 5 million internet users at the end of 2015.
The internet is the fastest developing and freest medium, but lags behind TV in terms of reach. The web is used by the opposition to make its voice heard.
The government has expressed a clear intention to control the internet with a presidential decree which provides for strict rules for ISPs and internet cafes.
VKontakte is the most popular social network, followed by Russia's Odnoklassniki and Facebook.
The press
Television
Radio
News agencies/internet