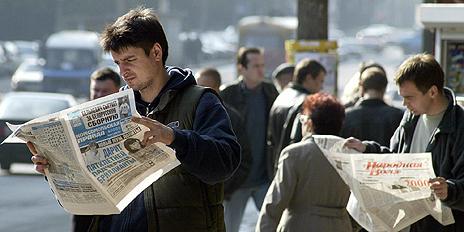 Reporters Without Borders (RSF) says Belarus is "the most dangerous country in Europe" for media workers. Since the disputed 2020 presidential election, "the few independent media outlets have been hounded by police".
RSF says "hundreds of journalists have been harassed, arrested and even tortured" to prevent coverage of protests.
Freedom House says the government exercises unrestricted control over mainstream media and that the media law "secures a state monopoly over information about political, social, and economic affairs".
TV is the main news source. National networks are state-controlled. Their main competitors are Russian networks. Most Russian bulletins are not rebroadcast live, allowing censors to remove content.
Belsat, a Polish-funded satellite TV station, has struggled to obtain official registration with the authorities.
Newspapers owned by the state greatly outnumber those in private hands.
The government owns the only internet service provider. Websites are classed as mass media and are overseen by the information ministry.
News and opposition websites, including the most popular news site Tut.by, are subject to blocking.
Russia's VKontakte is the most popular social network.