Tymoshenko: Austria ministers in Euro 2012 boycott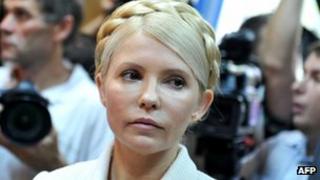 Austria's government is to boycott all Euro 2012 matches in Ukraine amid rising anger at the treatment of jailed opposition leader Yulia Tymoshenko.
The Austria team did not qualify for the tournament, co-hosted by Poland and Ukraine, but Chancellor Werner Faymann said it was "a political signal".
Several European leaders have already cancelled visits to the country.
Tymoshenko was jailed last year for abuse of office in a trial condemned by the West as politically motivated.
In a statement, Mr Faymann said: "We are concerned about the situation in Ukraine and in particular about the prison conditions of the former Prime Minister Yulia Tymoshenko."
Photographs of Tymoshenko, 51, displaying what appear to be bruises and grazes on the skin of her stomach and her arm, appeared last week.
The former prime minister says prison guards beat her as she was being transferred from her prison cell to a hospital to be treated for debilitating back pain.
Ukrainian prosecutors have denied the allegations and accused Tymoshenko of attempting to damage relations with the EU. Unconfirmed reports say she has gone on hunger strike.
'Rights abuses'
Five European presidents - from Austria, the Czech Republic, Germany, Italy and Slovenia - have said they will not attend a Ukrainian summit of Central and East European leaders next week in Yalta.
And earlier this week both European Commission President Jose Manuel Barroso and EU Justice Commissioner Viviane Reding announced that they would not attend the Euro 2012 tournament.
There are also doubts as to whether German Chancellor Angela Merkel will attend.
In an interview with Bild newspaper in Germany, Foreign Minister Guido Westerwelle said a decision had yet to be taken in Berlin on a government boycott of matches in Ukraine. Germany are due to play the Netherlands on 13 June in Kharkiv, the eastern city in which Tymoshenko is being held.
"I do indeed wonder how President Yanukovych can conceive of indulging in the Kharkiv soccerfest without a care in the world, while Yulia Tymoshenko isn't getting the medical help she urgently needs right next door," he said.
Talking to broadcaster ZDF, Mr Westerwelle also said an EU political and trade deal with Ukraine could not be ratified unless Kiev adhered to the rule of law.
On Monday, the foreign ministry in Kiev said it hoped that Germany's leaders would not use sport as a hostage of politics and would not revive "the methods of the Cold War".
In a separate development, Amnesty International has called on Ukraine to reform its police service, accusing the force of criminal behaviour in some of the Euro 2012 host cities.
It says it can point to "numerous" cases where police have tortured people "in an attempt to extort money, extract a confession, or simply because of the victims' sexuality or ethnic origin".
The organisation has called on the Ukrainian government to set up an independent body to investigate complaints against the police.