Amanda Knox: Italy court investigates video cost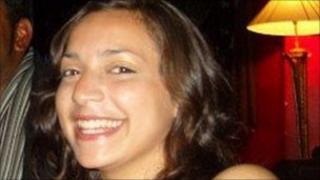 Italian auditors have opened an investigation into two prosecutors over the cost of an animated video used in the murder trial of Amanda Knox.
The film, commissioned by investigating magistrates Manuela Comodi and Giuliano Mignini, cost 182,000 euros (£148,000).
It portrays their interpretation of what happened when UK student Meredith Kercher was killed in Perugia in 2007.
Her flatmate, Amanda Knox, and Raffaele Sollecito were cleared of killing Ms Kercher following a successful appeal.
The 20-minute video, made by a specialised video animation company, was shown during the first trial in 2009.
Umbria audit court prosecutor Agostino Chiappiniello will seek to establish whether or not the cost of the film was necessary for the case, or represents a waste of public funds.
The film depicts what the prosecution said happened on the night that Ms Kercher, a 21-year-old Leeds university student, was murdered.
Ms Knox, her boyfriend at the time, Italian student Raffaele Sollecito, and Ivory Coast national Rudy Guede are portrayed as animated characters in the video.
According to Italian media reports, after being shown in court the film was never passed on to the defence team.
Guede was convicted of Miss Kercher's murder in a separate trial and sentenced to 30 years in prison. His conviction was upheld on appeal but his sentence reduced to 16 years.