Edvard Munch murals in Oslo canteen face sell-off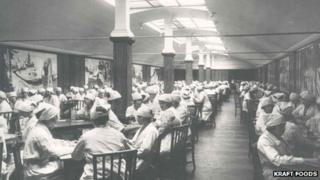 A factory canteen in Oslo which contains murals by Norwegian painter Edvard Munch is set to be sold.
Munch was commissioned to paint the frieze of 12 large paintings in 1921 and they were originally installed in the factory's women's canteen.
The light-suffused images depict everyday scenes from resort towns on Norway's east coast.
Kraft Foods, which owns the factory, has insisted it will ensure the paintings are well cared for if sold.
It says the factory, which makes chocolate, will remain open, but changing requirements mean surrounding buildings - including the canteen containing the Freia Frieze - may be put up for sale.
'At peace'
"These paintings are light and happy, unlike many other Munch paintings," says Kristian Hvilen, from Kraft Foods in Norway.
"Munch did them as an older man - it shows he was at peace with himself."
Munch was nearly 60 when commissioned to do the murals by the factory's founder, Johan Throne-Holst, and they were first put on show in 1923.
In 1934 the paintings moved to a general dining hall, Freiasalen, which is still used by factory employees.
They can only be seen by visitors on pre-booked guided tours or attending occasional concerts and open events, and Mr Hvilen says one positive outcome of selling the building might be giving the public greater access to the works.
But, according to Norwegian broadcaster NRK, factory employees who have eaten lunch under the murals for years have expressed sadness at the thought they could be sold off.
And it quotes a city conservation officer as saying authorities will closely monitor the fate of the hall, which it describes as a national treasure.
Munch's most famous work, The Scream, is set to go under the hammer at Sotheby's in New York in May, with a Sotheby's spokesman suggesting it could fetch in excess of $80m (£50m).
There are four versions of The Scream but the painting up for auction in the US is the only one that is privately owned.