Euro 2012: Poland's football hooligan fears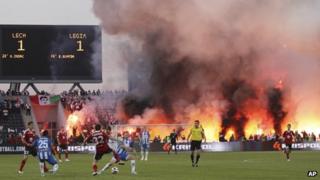 In the run-up to the Euro 2012 football championship now one month away, much attention is focusing on racism among fans and the potential for violence in co-host nation Poland.
The assumption is that Poland's hard-core hooligan groups will cause trouble during the championship and abuse foreign fans and players.
Theo van Seggelen, secretary general of players' union Fifpro, told the BBC recently he was not "100% convinced" that "accidents" would not occur both inside and outside stadiums if the majority of fans watching the matches came from the co-host nations, Poland and Ukraine.
Racist incidents do still occur in grounds across the country but mainly in the lower leagues and they are more infrequent than before.
The Never Again association monitors racism in Poland and its booklet, Hateful, gives a flavour of incidents at grounds.
It describes a derby match from November 2008 in Krakow between the city's teams, Cracovia and Wisla, whose rivalry is such that it is described here as a "holy war".
Some Wisla fans sang an anti-Semitic song about the supposed Jewish origins of their rivals and when a Cracovia player left the pitch, fans shouted: "To the gas chambers."
When the match ended Wisla players went over to their fans to thank them, some of them making obscene chants about Jews.
Beforehand, some Cracovia fans made monkey noises at Wisla's Brazilian player, Cleber, when he was sent off.
But this is not the whole picture. Wisla now have two Israeli players in their first team, and one of them, David Biton, is the club's top scorer this season.
Most teams have foreign players these days and when they score, whether they are white, black or Jewish, the supporters cheer.
'Monkey, go back'
According to a recent Fifpro survey of professional players in Eastern Europe, 9.6% of respondents said they had been victims of racism, mainly from supporters. In Poland, the figure was 9.5%.
In the region, 11.7 % of respondents said they had been victims of violence from fans, coaches and management. In Poland the corresponding figure was 6.3%.
Senegalese defender Pape Samba Ba, 30, was assaulted twice in Opole, south-west Poland, when he played for the city's Odra Opole club.
"I started playing here more than six years ago and then they didn't have the security," he told the BBC.
"The fans would scream 'monkey, go back to your country'. Now it's changing, the stadiums are getting better."
Bruno Coutinho, 26, a Brazilian midfielder for Polonia Warsaw who plays in Poland's top-flight Ekstraklasa division, has never been a victim of racism and says he has a good relationship with his teammates and coaches.
But he did witness racism while playing for Jagiellonia Bialystok in north-eastern Poland in 2009.
"They signed an 18 or 19-year-old black guy from Colombia," he told the BBC.
"During a pre-season friendly match some of our own fans were making monkey noises at him. It was the first time I had experienced anything like that."
Coutinho's dark-skinned brother recently visited him in Warsaw.
"We were walking in the centre and people would look at him like a person from another planet," he recalls.
"I don't know whether it's racism or whether people are not used to seeing black people. I'm not saying it's everyone or everywhere."
Changing attitudes
Poland used to be multi-ethnic, home to large Belarussian, Ukrainian, Jewish and German minorities before World War II, and many Poles are rightfully proud of centuries of tolerance not shared by many other European nations.
The Nazis murdered 90% of the country's more than three million Jews in the Holocaust and at the war's end, Poland's allies, the USSR, the US and the UK, agreed to shift the country's borders westwards, creating a homogenous Polish and Roman Catholic state.
It is estimated that ethnic minorities make up around 2% of Poland's 38 million inhabitants.
According to a February survey by polling organisation Cbos, Poles are most sympathetic to their neighbours, the Czechs and Slovaks, and least sympathetic to Roma and Arabs.
Over the last 20 years they have become more sympathetic to their old wartime foes, Germany and Russia, and now more Poles have favourable opinions towards Jews than negative ones.
"It's true that racism is tolerated much more in Poland than in Western Europe," Konstanty Gebert, a Jewish columnist for the leading Polish daily Gazeta Wyborcza, told the BBC.
"Poland is clearly above the European norm in expressions of anti-Semitism but I don't think that Poland is more anti-Semitic than France, it just tolerates it more.
"In Poland I walk around all the time in my kippah and I don't get trouble, in Paris I was harassed."
Mr Gebert said anti-Semitism was clearly on the decline and expressions of it were heard less as it became more socially unacceptable.
However, there was no self-consciousness about blacks, and in particular the Roma, he added. "Attitudes are changing but it will take a generation," he said.
'Positive vibe'
Rafal Pankowski, a member of Never Again and the Football Against Racism in Europe (Fare) network, says racist incidents are less frequent now.
Clubs now have safety directors and stewards trained to recognise racist banners. Never Again is involved in their training and its volunteers lead educational programmes for schools.
"We are not promising we can eliminate racism overnight but overall Euro 2012 has had a positive impact in terms of raising awareness of racism in Polish football and society," Mr Pankowski told the BBC.
Some argue that racism and violence are much more prevalent among supporters of rival clubs than they are among fans of the Polish national team.
This is largely true, Mr Pankowski said, although Polish supporters did start a riot in a friendly against Lithuania in March 2011.
There were, however, no reported major incidents among Polish fans who travelled to Euro 2008 in Austria and Switzerland.
It is impossible to say whether racism or violence will mar Euro 2012, of course, although Mr Pankowski does not believe the risk of incidents occurring inside the stadia is very large.
"There's a positive vibe, it's seen as an historic event," he said.