Yulia Tymoshenko Ukraine tax evasion trial is delayed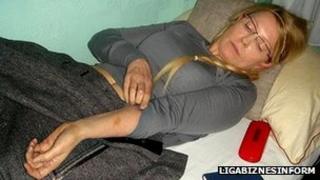 The trial of former Ukrainian PM Yulia Tymoshenko on tax evasion charges has been delayed until late May.
The presiding judge said it would be impossible to hold the trial in her absence.
Ms Tymoshenko, who is refusing to attend the trial for health reasons, is already serving a seven-year jail sentence for abuse of office.
On Friday, photos emerged of alleged injuries Ms Tymoshenko said she received while in prison last week.
Ukraine's opposition says three men punched her in the stomach, but the authorities have denied the allegation.
The first trial was condemned by Western governments as politically motivated.
'Bruises and grazes'
Ms Tymoshenko did not attend preliminary hearings for the new trial held a week ago, citing health problems.
Judge Kostiantyn Sadovsky told the hearing that it would be "impossible" to hear the case against Ms Tymoshenko without her being present. The trial has been delayed until 21 May.
The charges she faces relate to her time at the head of a private energy company in the 1990s.
If found guilty she could face another 12 years in prison.
Her current jail sentence came after she was found guilty of alleged tax evasion in the same period - she denies any wrongdoing.
Ms Tymoshenko, who accuses President Viktor Yanukovych, a political rival, of seeking revenge, is said to have begun a hunger strike last Friday.
The images show Ms Tymoshenko, 51, displaying what appear to be bruises and grazes on the skin of her stomach and her arm.
Ukrainian websites which published the pictures said they had been distributed to EU diplomats by the Ukrainian parliament's human rights commissioner, Nina Karpachova.
They said the photographs were taken on Wednesday, five days after the attack allegedly happened as Ms Tymoshenko was being transferred to a hospital.
German appeal
Earlier this month, she was granted permission to leave her prison in the eastern city of Kharkiv to receive treatment in a hospital.
But the authorities denied her request to be treated abroad. She is said to have been suffering months of back pain and is reported to have been diagnosed with a herniated spinal disc.
German doctors who have examined her urged the Ukrainian government on Friday to allow her to be cared for abroad on "humanitarian grounds".
"I would appeal to the Ukrainian president - be a humanitarian president committed to values and let her go abroad to Europe for treatment," said Karl Max Einhaeupl, who heads the team of doctors from the Charite hospital of Berlin.
He said there was "considerable doubt" that she could be successfully treated in Ukraine.
German government spokesman Steffen Seibert said Ukraine's actions towards Ms Tymoshenko would "play a part" in whether Chancellor Angela Merkel decides to attend the Euro 2012 football championships being held in Poland and Ukraine in the summer.
Talking to the Associated Press news agency, Interior Minister Hans-Peter Friedrich said that in light of the allegations it was possible that "many politicians who had planned to travel to Ukraine to watch the matches won't do so".
On Thursday, Germany's President, Joachim Gauck, turned down a visit to Ukraine amid growing concern at Ms Tymoshenko's health.
Her daughter, Eugenia, told BBC News on Wednesday that she and a lawyer had seen her bruises and that her mother was refusing pleas to abandon her hunger strike.
But the prison head, Ivan Pervushkin, insists she was not beaten. He said she had shown the "bruises she allegedly received from our guards" only to her own party colleagues, according to the Interfax news agency.