Slovakia profile - Leaders
President: Andrej Kiska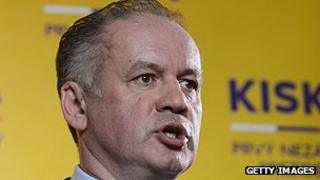 Philanthropist and former businessman Andrej Kiska was elected president in March 2014.
He won a run-off election against the country's social democratic prime minister, Robert Fico, whose defeat was considered highly significant: if he had become head of state, his party would have controlled the presidency as well as the government.
Mr Kiska campaigned on the need to have a healthy balance of power between the president and the Cabinet, and called for a strengthening of the independence of the judiciary where the president appoints important personnel.
He made his fortune through consumer credit companies that he sold, setting up a charity to help families with ill children.
The presidency is largely ceremonial, but the president has the power to pick the prime minister, appoint Constitutional Court judges and veto laws. A parliamentary majority can override vetoes.
Prime minister: Robert Fico
Mr Fico's leftist Smer party won a landslide victory in early general elections in March 2012 - the first time since independence that a party had gained an absolute majority in the Slovak parliament.
The centre-right coalition of Iveta Radicova, which had governed since June 2010, was routed in a poll dominated by a corruption scandal that engulfed its main parties.
Known as a straight-talking populist, Robert Fico was born to a working-class family in the provincial town of Topolcany in 1964 and trained as a lawyer in Communist Czechoslovakia.
He became a member of the Communist Party of Czechoslovakia in 1987, and after the Velvet Revolution of 1989 joined its SDL successor before forming his own party, Direction-Social Democracy (Smer).
He raised his public profile by sharply criticising the radical economic reform programme implemented by the centre-right governments of Mikulas Dzurinda (1998-2006), which although hailed by investors and international financial institutions was not popular with ordinary Slovaks.
Mr Dzurinda's policies were seen as having stimulated growth - earning Slovakia the nickname of "the central European tiger" - but were associated with high levels of unemployment and were seen as having a disproportionately negative effect on low wage-earners and welfare recipients.
After the 2006 election Smer formed a coalition government with various nationalist and populist parties, despite having campaigned on a social-democratic platform.
Mr Fico led Slovakia into the eurozone during his first stint as prime minister in 2006-2010, but his government's record of deteriorating relations with the country's Hungarian minority also tarnished its reputation in the eyes of the EU.
He made defending the eurozone and boosting social welfare two of the main planks of his 2012 election campaign, but his second government came to be dominated by his opposition to accepting European Union migrant quotas in the aftermath of the Syrian refugee crisis.
Mr Fico made an unsuccessful bid for the presidency in 2014, losing to political newcomer Andrej Kiska.
He led Smer into the 2016 elections, emerging as the largest party but losing his majority.