Ukraine denies Tymoshenko beaten up in prison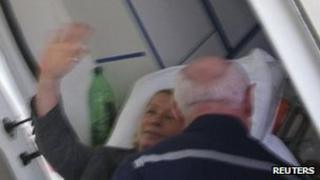 The authorities in Ukraine have denied former Prime Minister Yulia Tymoshenko was beaten up in prison last week and invited German doctors to examine her.
Tymoshenko, who is serving seven years in jail for abuse of office, has said she was attacked while being moved to hospital for an examination on Friday.
Germany acknowledged the Ukrainian request and said it was considering how best to respond.
Ukrainian officials also denied reports Tymoshenko was on a hunger strike.
The Ukrainian prison service said Tymoshenko herself had informed them on Wednesday morning she had not declared a hunger strike, despite an announcement by her lawyer on Tuesday.
Its statement could not be verified independently.
Tymoshenko's conviction over a gas deal with Russia was condemned in Western states as politically motivated.
The former leading figure in the "Orange Revolution" has accused Ukrainian President Viktor Yanukovych, her old political enemy, of seeking revenge and the issue has overshadowed talks on co-operation between Ukraine and the EU.
'No bruises visible'
Tymoshenko, 51, was moved from her prison to a hospital on Friday, then returned there on Sunday after she refused treatment for back pain.
In a statement, Tymoshenko accused three members of staff at the prison in the eastern city of Kharkiv of assaulting her while taking her to the hospital.
"They approached my bed, put a sheet over me and started dragging me off the bed, using brute physical force," she wrote.
"In pain and desperate, I started defending myself the way I could and received a strong fist punch in the abdomen," she said, her words read out to reporters by lawyer Serhiy Vlasenko.
"They twisted my arms, lifted me up and dragged me outside wrapped in a blanket. I thought those were the last minutes of my life."
Her lawyer said she had bruises on her arms and stomach.
But Ukrainian prosecutors denied the allegations and accused Tymoshenko of staging a political provocation designed to further damage relations with the EU.
They said prison guards had taken Tymoshenko to the hospital against her will, but she was not beaten.
A doctor at the hospital said she had seen "no bruises on the visible parts" of Tymoshenko's body.
"The patient was conscious when I asked her whether it was possible to examine her, and she said that she had not agreed at that time," neurologist Iryna Fursa told reporters.
"I could examine only the hands and face of the patient."
On Tuesday, Mr Vlasenko told reporters Tymoshenko had been on a hunger strike since Friday.
But the Ukrainian prison service said in a statement on its website that the prisoner had told guards and medical staff at the prison on Wednesday morning she had not declared a hunger strike, "though she refuses to confirm this in writing".
German concern
Doctors from the Charite Clinic in Berlin have already visited Tymoshenko in prison twice, confirming she was suffering from debilitating back pain.
A Ukrainian foreign ministry spokesman said the government had sent an official request to Germany for a new visit to "examine and treat Yulia Tymoshenko".
German Foreign Minister Guido Westerwelle said his government had acknowledged the request.
"It is now being examined if, and under which conditions, sending in medical assistance would be useful," he said.
Mr Westerwelle called on the Ukrainian government to provide "adequate and suitable" medical care for Tymoshenko.
"The German government is deeply concerned about the health of Yulia Tymoshenko, especially since she began her hunger strike," he said.
German government spokesman Steffen Seibert said: "If these reports [of physical force being used] are true then this behaviour by the Ukrainian penitential authorities is unacceptable and completely disproportionate."
Tymoshenko is serving her sentence in Kachanivska prison, Kharkiv, having been moved there from a Kiev detention centre in December.