France election: Sarkozy rules out deal with Le Pen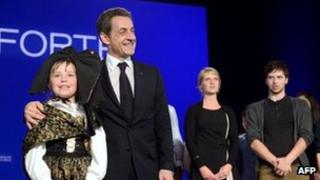 French President Nicolas Sarkozy has ruled out doing any election deal with the far-right National Front but said its voters should not be demonised.
After losing the first round of the presidential election, he needs to win over far-right voters for the second.
Socialist rival Francois Hollande has set out plans to revise the EU fiscal compact championed by Mr Sarkozy.
He has made clear he will not sign the pact until it contains proposals for stimulating economic growth.
'No ministers'
The shock of election night for many was the 17.9% won by National Front candidate Marine Le Pen, putting her third behind Mr Sarkozy on 27.1% and Mr Hollande on 28.6%.
"There will be no agreement with the National Front, and no [National Front] ministers," Mr Sarkozy told France Info radio.
"We need to speak to the 18% who voted for Marine Le Pen," he said.
"I don't regard this 18% as people with extreme-right ideas... but I don't want ministers from the National Front. I've never wanted that."
Ms Le Pen is not expected to make her position clear until next week when she addresses a National Front rally on 1 May.
Asked about first-round far-left candidate Jean-Luc Melenchon, who said this month that he liked Mr Sarkozy's wife Carla Bruni as a singer, the French president joked that he could say "nothing bad about someone who likes Carla's songs".
Mr Melenchon attracted 11.1% of the vote.
Later, on a campaign stop in Cernay, in the eastern region of Alsace, Mr Sarkozy appeared to address themes popular among nationalists.
"The world today needs borders," he said. "The border protects. It is not a barrier between men."
"When you deny your identity, when you don't know where you come from, you cannot tell your children where you want to go," Mr Sarkozy said.
Financial transaction tax
Addressing a news conference on Wednesday afternoon at the International Union of Railways in Paris, Mr Hollande said he would send his European partners four proposals to amend the EU fiscal pact
To create euro bonds to finance industry infrastructure projects
To free up investment funds,
To introduce a financial transaction tax
To mobilise unused structural investment funds
Speaking earlier to France 2 TV, Mr Hollande also argued that part of the Le Pen electorate came from the left and "should be on the side of progress, equality, change, shared effort and justice".
"It is up to me to convince them that the left defends them," Mr Hollande said.
A new Le Pen
It has been announced that a niece of Ms Le Pen, Marion Le Pen, will stand for parliament in June in a constituency held by Mr Sarkozy's UMP party and its predecessors for more than a quarter of a century.
Marion Le Pen, a 21-year-old law student and grand-daughter of Jean-Marie Le Pen, is to stand in the Carpentras constituency in Vaucluse, south-eastern France.
She will be the principal opponent of sitting MP Jean-Michel Ferrand, who has been re-elected there since 1986.
According to regional newspaper La Provence, Marine Le Pen took 31.5% of the vote in the constituency at the presidential election to 27.65% for Mr Sarkozy and 19.1% for Mr Hollande.
Carpentras was gripped by a political row in 1990 when a Jewish cemetery was vandalised and the National Front was accused indirectly. Neo-Nazis later convicted of the desecration had no proven links to the party.
The National Front currently has no MPs in France's National Assembly.
EU President Herman Van Rompuy has warned of "winds of populism" blowing across Europe.
"Nationalist and extremist movements are on the rise," he wrote on Twitter during a visit to Romania.
"Many of them blame 'Brussels' for bad news. There can only be one response. Telling the truth."