France election: Hollande appeals to Le Pen voters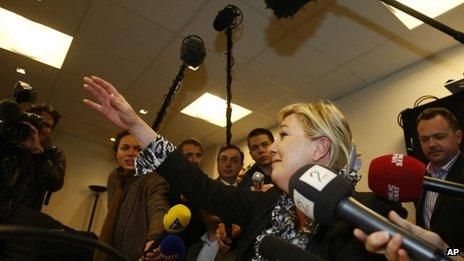 French Socialist presidential candidate Francois Hollande has suggested that some leftists voted on Sunday for the far right out of "social anger".
Mr Hollande won the first round of the election, narrowly beating conservative Nicolas Sarkozy, while the National Front's Marine Le Pen came third.
Mr Sarkozy, who faces a run-off election with Mr Hollande on 6 May, said he had "heard" Le Pen voters.
Uncertainty over France's future direction unsettled markets on Monday.
Sterling stayed close to a 20-month high against the euro on Tuesday and was seen poised for more gains, with political turmoil in another important eurozone state, the Netherlands, adding to investor fears.
On Sunday, Mr Sarkozy became the first president in modern French history to lose the first round of his re-election campaign.
Mr Hollande came top with 28.6%, Mr Sarkozy took 27.1% and Ms Le Pen 17.9%.
Ms Le Pen's score was a huge advance on the 10.4% registered by her father, National Front (FN) founder Jean-Marie Le Pen, against Mr Sarkozy in 2007.
Speaking to left-of-centre French daily Liberation, Mr Hollande said it was up to him to persuade FN voters.
"There is the Le Pen electorate, part of whom come from the left and should be on the side of progress, equality, change, shared effort and justice, because it is opposed to privilege, financial globalisation and a failing Europe," he said.
"It is up to me to convince them that the left defends them."
Such voters did not necessarily adhere to "FN ideas and its obsession with immigration in particular", the Socialist candidate argued.
"Above all, they are expressing a social anger."
Ms Le Pen and her party advocate abandoning the euro, reinstating border controls, cracking down on immigration and stamping out what they perceive as attempts to "Islamise" France, which has Western Europe's biggest Muslim minority.
If turnout at the second round is similar to that in the first, when 80% of voters participated, both Mr Hollande and Mr Sarkozy must win over FN votes to be sure of climbing above the 50% mark needed to win the presidency.
Mr Hollande is expected to pick up much of the support for far-left candidate Jean-Luc Melenchon, who won 11.1% of the vote, but the 9.1% who backed centrist candidate Francois Bayrou are divided in their affections, opinion polls suggest.
Analysts say it is extremely unlikely Ms Le Pen will endorse either candidate in the second round, though she has said she will make her views known on 1 May, AFP news agency reports.
It is believed the FN strategy is to concentrate on the parliamentary elections in June. It currently has no MPs in the French National Assembly, whereas in 1986 it had 35.
On Monday, Mr Sarkozy said he respected the right of some voters to choose the National Front.
"There was this crisis vote that doubled from one election to another, an answer must be given," he told reporters.
"I want to say that we have heard them [the far right] and know how to respond with precise commitments," he added.
On the stump at Saint-Cyr in the Loire Valley, the leader of the conservative UMP party also launched a biting attack on the Socialist Party, which had favoured former IMF chief Dominique Strauss-Kahn as its candidate before his downfall nearly a year ago in a sex scandal.
"I will not agree to take lessons in morals, and certainly not from a Left that wanted to put Mr Strauss-Kahn in the Elysee [Palace]. Imagine it was us."
However, in July 2007, Mr Sarkozy endorsed Mr Strauss-Kahn for the position of IMF director, telling Le Journal du Dimanche newspaper at the time he was the candidate "best suited" to the post.
Sustaining his attack on Socialist leaders on Monday, Mr Sarkozy also accused them of "preferring to dine out than to meet the workers", of having friends who "can buy newspapers to make their propaganda" and inviting "tax exiles" to public meetings.
Critics have mocked Mr Sarkozy for his own luxury lifestyle as president.
An unnamed source close to Mr Sarkozy told the centre-right French daily Le Figaro: "People do not want to hear about the economy or the European Central Bank, but immigration and authority."
Speaking about the likely tone of the campaign ahead, an aide to the president, again unnamed, told the paper jokingly: "We are going to be horrible!"
Related Internet Links
The BBC is not responsible for the content of external sites.