Spain restores border checks for Barcelona ECB meeting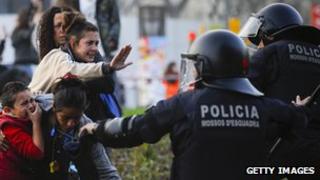 Spain will reimpose border checks for a European Central Bank (ECB) meeting in Barcelona next month, suspending the EU's passport-free travel treaty.
The Spanish interior ministry believes anti-austerity protesters could try to disrupt the 3 May ECB summit.
Only a threat to public order is seen as grounds for restoring border controls under the Schengen Treaty.
Only crossings on the French-Spanish border will reinstate checks, ministry officials are quoted as saying.
The measure is expected to last about a week, but no precise dates have been given yet.
Barcelona saw clashes between protesters and police on 29 March, the day of a general strike in Spain, which has the EU's highest unemployment rate.
The EU is currently reviewing the Schengen rules, which apply to 25 countries, because the economic crisis has increased pressure to keep illegal migrants out. Last year France and Italy led the calls for more surveillance of Europe's borders.
Schengen, which includes some non-EU countries, is intended to ease travel for Europe's citizens.
Germany and France want the EU to allow Schengen states to reimpose border controls for up to 30 days to prevent any major influx of illegal immigrants, Sueddeutsche Zeitung reports.
The German news website says the proposal is contained in a joint letter, to be considered by EU interior ministers in Luxembourg next Thursday.