Romania profile - Leaders
President: Klaus Iohannis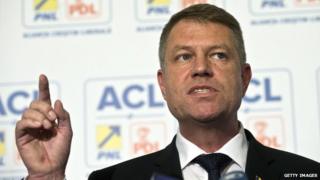 Provincial mayor Klaus Iohannis inflicted a shock defeat on Prime Minister Victor Ponta in a presidential election run-off in November 2014.
Mr Ponta was leading in the opinion polls and had beaten Mr Iohannis, the centre-right mayor of the city of Sibiu in Transylvania, in the first round of voting.
But Mr Iohannis, who campaigned on an anti-corruption platform, won a decisive victory on a record turn-out.
The election may well have been decided by the votes of Romania's large and growing diaspora. Nearly 50 per cent of the ballots cast abroad were for Mr Iohannis, compared to just 16 percent for Mr Ponta.
Observers said that with several senior figures in Mr Ponta's formerly communist Social Democrats accused of corruption, Mr Iohannis appealed to voters with his reputation for reliability and honesty.
Klaus Iohannis is a former physics teacher who hails from the country's ethnic German community, which was persecuted under communist dictator Nicolae Ceaucescu.
He has been re-elected four times as mayor of Sibiu, and has developed a record for sound government in a region of the country that is booming economically.
Romania is the EU's second-poorest country, and much of the campaign focused on how to increase living standards.
Under Romania's system, the president is responsible for foreign and defence policy, and controls the appointment of prosecutors and the judiciary.
Prime Minister (designate): Mihai Tudose
Economy Minister Mihai Tudose took over as prime minister in June 2017 after a dispute in the governing Social Democratic Party forced out Sorin Grindeanu.
Party leader Liviu Dragnea, who is debarred from holding high office because of a conviction for electoral fraud, put forward his long-standing ally Mr Tudose as a way to prevent the collapse of the six-month-old government.
President Iohannis said he confirmed the appointment in order to maintain economic stability. Mr Tudose will then have 10 days to win parliamentary approval for his government.
Mr Grindeanu's appointment as head of a coalition government in January marked the return to power of the Social Democrats for the first time since anti-corruption riots forced them from office in November 2015.
But Mr Grindeanu never overcame public suspicion that he was trying to rein in the anti-corruption drive established by the previous non-party government.
More than 200,000 people came out onto the streets in February to force the government to back down over plan to decriminalise certain forms of corruption.
A power struggle between the prime minister and Mr Dragnea led the junior coalition party to withdraw support from the government, which then lost a vote of confidence in parliament.