Portugal profile - Leaders
President: Marcelo Rebelo de Sousa
A veteran figure in the centre-right Social Democratic Party, which he lead in the late 1990s, Mr Rebelo de Sousa went on to fashion a high-profile career as a journalist and TV pundit before being elected to the presidency in March 2016.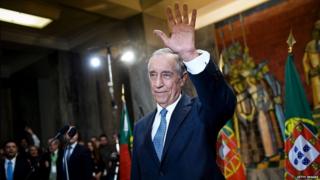 He stood as an independent, campaigning to heal the divisions caused by Portugal's 2011-2014 debt crisis and austerity measures, and beat the left-wing candidate Antonio Sampaio da Novoa in the first round.
Although the role is mainly ceremonial, the president has the power to appoint and dismiss prime ministers, dissolve parliament and call elections.
Prime minister: Antonio Costa
Socialist Party leader Antonio Costa formed a centre-left government in November 2015 after a month of political drama, amid expectations of an end to four years of fiscal austerity.
He joined forces with two far-left parties to oust the centre-right coalition of incumbent Pedro Passos Coelho that topped the poll in inconclusive October parliamentary elections.
The Socialists' alliance with the Communists and the Left Bloc came about despite major differences with them, in particular the Left Bloc's insistence on a restructuring of what it sees as Portugal's unsustainable debt.
In contrast, Mr Costa's party sought the end of some austerity policies while sticking to European budget rules, and instead sought to reduce the debt purely through economic growth.
Among the first plans announced by the coalition were an increase in the minimum wage, as well as the reversal of civil service wage cuts.
Mr Costa's predecessor, Mr Passos Coelho, described the new government as "adventurous and experimentalist", and warned it would frighten away foreign investors.
Formed in June 2011, Mr Passos Coelho's centre-right coalition implemented tough austerity measures and economic reforms imposed as part of an EU and IMF bailout package
This included several rounds of public spending cuts, but the government backed down on a social security tax rise in the face of mass street protests in 2012.
As a result of some progress in reducing the deficit, Portugal in 2014 exited its 78bn-euro international bailout programme without applying for a precautionary credit line.
Born in 1961, Mr Costa is a veteran Socialist Party politician, serving as a government minister twice before being elected mayor of the capital Lisbon in 2007, resigning to become the Socialists' candidate for premier in 2015.