Dutch feel the pinch as economic crisis bites
By Anna Holligan
BBC News, Amsterdam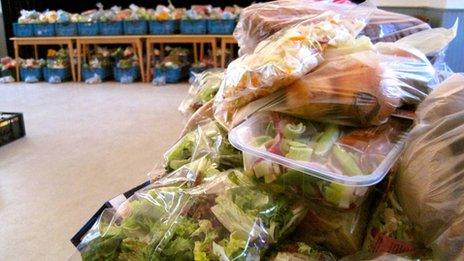 Throughout the stormy financial crisis, the Netherlands has appeared to be riding the waves of economic unrest comparatively well. But now Prime Minister Mark Rutte's government has collapsed because of disagreements over budget cuts, and there are increasing signs of the effects of the economic downturn.
One indication is the growing need for food handouts.
Hidden away, halfway down a busy street in one of Amsterdam's less recognisable districts, an orderly queue is forming.
Downstairs, inside the stained glass community centre, the volunteers are running around frantically separating colourful donations into crates before the customers start flooding in. This is one of the city's five food banks.
Over the past few months they have experienced an unprecedented demand.
"We have about 1,300 households here every week. It's been growing for some time but now we see a steep rise," said Piet van Diepen from Food Bank Amsterdam.
He has a theory: "We are seeing the effects of the crisis. These people are out of work, they have little money and a lot of debts. The government is reducing the welfare benefits too, so people have to come here."
The number of people claiming the handouts has been rising by 10% a month since December. More than 60,000 people across the Netherlands now rely on these rations.
Petra is one of the first to enter the hall. Armed with two large reusable shopping bags she scans the crates in anticipation.
"It's a good week this week. Look, there are lots of veggies, some cookies, fruits, herbs for macaroni or spaghetti so that's wonderful, sometimes it's just lettuce."
Petra has been coming here for the past three years.
As she packs the groceries into her well-worn carrier bags, she explains that her weekly benefits of 50 euros (£40) won't stretch far enough to feed the family.
Without the food bank, she says she would be forced to resort to a much less palatable alternative: "I would have to steal because otherwise I don't eat. There's a lot of poverty in Holland but it's hidden, nobody knows."
Hunger is not a concept you would immediately associate with one of Europe's strongest economies. But austerity measures taken at the top are having a dramatic impact on the people at the bottom.
The economy is now in recession and unemployment has hit 6%, the highest level in six years. One in six households is struggling to cover the weekly shopping bill.
A few miles away, Amsterdam's trendy Basis Bar is buzzing with diners determined not to let the economic crisis upset their social diaries. Here you can bring your own food, the staff will heat it up for nothing so all you have to pay for is whatever you are drinking.
A mozzarella and rocket pizza is spinning around in the microwave behind the bar, while 20-something Sophie is tucking into her supermarket-bought salad.
"It's too expensive to go out and eat all the time but here it's great because you don't have to spend so much. This salad cost 5 euros across the street but if I bought it in a normal restaurant it would be maybe 10 or 15 euros."
Basis (which translates as basic) was not specifically designed to profit from the financial fallout but owner Michiel Zwart has noticed a rise in his cheap-seat-seeking clientele.
"People don't have extra money to eat out any more, so we have tried to make it easy so they can still come out and spend an evening with their friends but not have to pay such a high price for food," he says.
"We have people bringing big pots of homemade soup. Throw some nice baguettes in the oven and you can have a nice night out for a very low budget."
And they will even wash your dishes and recycle the empty wrappers when you're finished.
On the other side of the city, 32-year-old Denise Dulcic is slaving over a hot stove.
"Eating out? Forget about it," she laughs.
When the Dutch government reduced funding for special education, Denise lost her job as a child psychologist and has been unable to find one since.
"Now I am cooking to survive, I am forced to do this because there is no other 'normal' work out there. Yes I have good qualifications but there are no jobs any more," she says.
Denise has turned to a new scheme called "Tweetje Mee" (Table for Two) which allows people to cook their own dinners and then sell the left-overs.
She's balancing this with her own fledgling business combining cooking with therapy. Still, she says it's hard to survive on cooking alone.
"I find it hard to pay my rent because it's so high. Because of the crisis, people are afraid. Cooking is my passion but I'm doing it because it's my only way of living."
With Dutch politicians locked in negotiations to cut an additional 9bn euros (£7.4bn; $11.8bn) off the budget, there are growing numbers of people in the Netherlands struggling to avoid sinking into these increasingly troubled waters.