France election: Hollande threatens to veto fiscal pact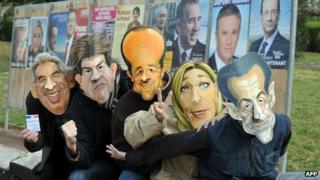 Francois Hollande, the Socialist tipped to win France's presidential vote, has said he will not endorse the EU fiscal compact if it fails to promote growth.
"If the pact contains no measures for growth, I can't recommend it for ratification..." he told Germany's Handelsblatt business daily.
The agreement on ensuring budget discipline among EU states is meant to be approved by January.
It has been championed by Mr Hollande's rival, President Nicolas Sarkozy.
German Chancellor Angela Merkel, the pact's key proponent, has backed Mr Sarkozy's re-election campaign.
The fiscal compact was signed in March by leaders of all but two of the EU's 27 member-states - the UK and the Czech Republic.
Recent French opinion polls suggested Mr Sarkozy would narrowly beat Mr Hollande in the first round of the election on Sunday, but would lose by a wide margin in the second, on 6 May.
However, a new (CSA) poll conducted over Monday and Tuesday has Mr Hollande winning the first round, too, by 29 percentage points to 24 for Mr Sarkozy. A separate (BVA) poll conducted on the same days gives Mr Hollande a two-point lead.
'Saving for saving's sake'
Mr Hollande told Handelsblatt his strategy to fight the eurozone's financial crisis included promoting euro-area bonds, dropping plans to anchor deficit-reduction rules in countries' constitutions and seeking new powers for the European Central Bank.
All of these proposals are opposed by the German government.
"Only a strategy for growth can get Europe out of its crisis," Mr Hollande said.
"All EU countries, even Germany, are suffering from meagre economic growth."
While accepting the need for stronger budget discipline, he argued against "saving for saving's sake".
His campaign was endorsed by Belgian Prime Minister Elio di Rupo on Tuesday, when the fellow Socialist attended Mr Hollande's election rally in the northern city of Lille.
Mr di Rupo is the only EU leader to have backed him publicly.
'Target achieved'
Mr Sarkozy has mocked Mr Hollande's international isolation, the French news agency AFP notes.
He was criticised recently for breaking standard protocol and allowing television cameras to film the first few moments of a video phone conference with US President Barack Obama.
"We will win, you and me," Mr Sarkozy, speaking in English, told a smiling Mr Obama, referring to the US leader's own re-election bid in November.
Speaking on Wednesday, Mr Sarkozy defended his record on economic growth, saying he had achieved his target of 1.75% for 2011.
In an interview for French broadcaster BFMTV, he said the word "growth" figured in the fiscal compact six times.
"Today I think Europe is in recovery. But we have overcome the financial crisis," he insisted.
On a personal note, the thrice-married conservative leader said: "Divorce is painful. It is a rupture. And often it is the children who pay the bill."
Mr Sarkozy's current wife, former super model Carla Bruni-Sarkozy, went on her husband's Twitter account on Wednesday to say: "I'm borrowing my husband's account for a moment to greet you, dear followers. Thanks for your support! Carla."
In the BFMTV interview, Mr Sarkozy argued that voting for far-right leader Marine Le Pen served Mr Hollande's interests.
On Tuesday, the National Front leader told a rally at a Paris concert hall the other candidates were "liars or incompetent or both".
She condemned EU officials as "stupid technocrats" and attacked immigration, saying French citizenship should be "inherited or merited".
Polls suggest Ms Le Pen will come third on Sunday, followed closely by radical leftist Jean-Luc Melenchon, with centrist Francois Bayrou placed fifth.