Norway profile - Leaders
King: Harald V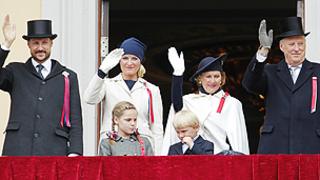 Crown Prince Harald became king on the death of his father Olav V in 1991. Born in 1937, he fled with his mother and siblings to the United States after the German invasion of Norway in 1940, while his father and grandfather, the then King Haakon VII, joined the government in exile in London.
The royal family returned to Norway at the end of the war, and Prince Harald went on to study at the University of Oslo, the Norwegian Military Academy and Oxford University.
Like his father and grandfather, King Harald is a keen sportsman, and represented Norway with distinction as a yachtsman at various international events, including the Tokyo, Mexico and Munich Olympics.
He caused some controversy by insisting on marrying a commoner, contrary to the tradition of marrying a royal princess. He and Queen Sonja have two children, Princess Martha Louise and Crown Prince Haakon.
The king has clearly defined constitutional duties. Apart from being head of the armed forces and Church of Norway, he chairs the Council of State once a week. He appoints the government according to which party commands the largest number of seats in parliament, or else on the advice of the head of parliament and the prime minister of the day.
King Harald has continued the royal family's tradition of of unpretentious public duty, and serves as a symbol of the country's strong sense of national identity.
Prime minister: Erna Solberg
Erna Solberg heads a right-wing minority coalition government assembled following elections in September 2013.
Her government rules in a minority after failing to win over several small centrist parties. But minority governments are common in Nordic countries and her Conservative Party has enlisted the formal outside backing of the Liberals and the Christian Democrats to ensure stability.
Ms Solberg, Norway's second female prime minister, appointed women to half of the cabinet posts, in line with an unwritten rule about gender equality.
Nicknamed "Iron Erna" for her tough stance as local government minister in charge of asylum and regional development in 2001-2005, Ms Solberg took over leadership of the Conservative Party in 2004 and steered it to third place in the 2009 elections.
Her government has promised to lower taxes, reduce the economy's reliance on the vast oil sector, invest heavily in infrastructure and curtail immigration.
One of her coalition partners is the populist Progress Party, which entered the government for the first time after having been in opposition ever since its formation 40 years previously.
The Progress Party is in favour of tighter immigration controls and sweeping tax cuts.