Polish ex-sports minister Lipiec jailed for corruption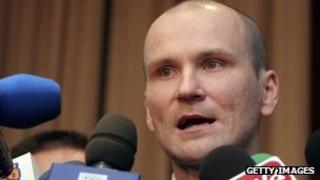 A Warsaw court has jailed Polish former Sports Minister Tomasz Lipiec for three-and-a-half years for corruption.
Lipiec, 41, was also banned from public office for 10 years.
A former Olympic race walker, he was appointed sports minister to step up the fight against corruption but was accused of taking bribes.
Poland is co-hosting the Euro 2012 football championship with Ukraine, but has been hit by a series of corruption cases, often involving football.
Lipiec was caught up in two separate bribery investigations: one from his time as minister and another earlier case, when he was head of the Warsaw Sports and Recreation Centre.
In the earlier case, he was accused of accepting bribes totalling 170,000 zloty (£33,000; 40,000 euros) for the renovation of a ice rink.
He was also charged with taking bribes worth 270,000 zloty after he joined the conservative-led government in 2005.
The former Olympic athlete joined the Law and Justice-led coalition in October 2005 but he was sacked in 2007 and was later arrested.