Italian ex-PM Silvio Berlusconi 'hosted nun strippers'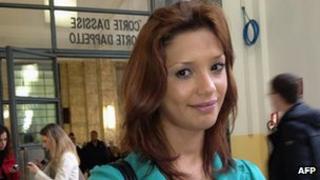 A witness at the trial of Silvio Berlusconi has said strippers dressed as nuns performed for the former Italian prime minister at a party.
Model Imane Fadil said she had been given 2,000 euros (£1,650; $2,614) by Mr Berlusconi the first time she attended a "bunga bunga" party.
She was one of several women who arrived at a Milan courthouse on Monday to testify in Mr Berlusconi's trial.
He is accused of paying for sex with an underage nightclub dancer.
The woman, Moroccan-born Karima el-Mahroug, was 17 when she allegedly had sex with the prime minister.
He is also accused of abusing his powers by getting police to release Ms Mahroug - better known by her stage name Ruby The Heart Stealer - from jail when she was arrested for stealing.
Witness payments
Ms Fadil told the court she had attended several parties at Mr Berlusconi's villa outside Milan.
She alleges that the first night she went, she saw two young women in nun costumes stripping for the prime minister. One, she said, was Nicole Minetti, now a regional councillor for Berlusconi's People of Freedom party in Milan.
Ms Fadil claimed that Ms Minetti and the other woman dressed as a nun stayed the night at the villa, and that women who attended bunga bunga parties were paid more for sex.
Italian newspaper Corriere della Sera reported last week that Mr Berlusconi had paid a total of 127,000 euros to three female witnesses, including Ms Minetti, since the trial began last year.
Mr Berlusconi's lawyer, Niccolo Ghedini, denied the payments were an attempt to influence the women's testimony, saying they were legal and reflected the former prime minister's "usual generosity", AFP news agency reports.
This is one of three trials that the businessman and former prime minister is currently a defendant in. The other two relate to tax fraud and violating official secrets, while earlier this year an Italian court threw out a fourth case relating to bribery claims.
Mr Berlusconi stepped down in November 2011 over concerns about Italy's economy.