French poll rivals Sarkozy and Hollande rally troops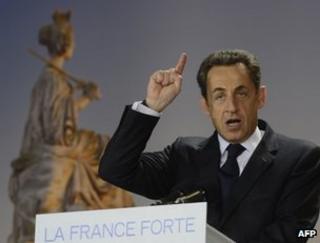 The front-runners in France's presidential election have held rival mass rallies in the capital, Paris, a week before the first round of voting.
Addressing supporters in the Place de la Concorde, President Nicolas Sarkozy promised economic growth if re-elected.
The alternative was a "depression", the embattled conservative leader said.
Socialist candidate Francois Hollande told a crowd at the Castle of Vincennes it was time for change but made no personal attacks on Mr Sarkozy.
France, he argued, had endured five years of injustice and austerity at the hands of Mr Sarkozy and the financial markets.
Organisers at both rallies claimed turnouts of about 100,000, the French news agency AFP said.
French police made it clear they would be giving no estimates for the rival gatherings, held 10km (six miles) apart.
Opinion polls suggest that while the two candidates are neck and neck in the first round, Mr Hollande has a decisive lead of around 10 percentage points in the second, due to be held on 6 May.
Napoleon and Kennedy
Despite its bloody associations with the execution of King Louis XVI in 1793, the Place de la Concorde is known as the site favoured traditionally by French conservatives to celebrate victories.
In a 40-minute speech, Mr Sarkozy appealed to his supporters' patriotism, invoking French history and the names of past leaders like Napoleon and Charles de Gaulle.
Preaching conservative values, he said: "I will never accept an egalitarian, levelled-out France which would turn its back on talent because it fears it."
He called for a "new social model" and a "new growth model".
The French right-of-centre newspaper Le Figaro notes that Mr Sarkozy avoided making personal attacks on Mr Hollande, in contrast to earlier speeches.
At the Castle of Vincennes, Francois Hollande nearly shouted himself hoarse as he pressed home the message that change was needed.
"Why continue what has failed?" he asked. "Why continue going in the wrong direction? We must turn the page. France is not bankrupt, it is its leaders who are bankrupt."
Borrowing a term used by John F Kennedy in his acceptance speech as US president in 1960, Mr Hollande said he wanted to set a "new frontier" for France.
Alluding to radical leftist candidate Jean-Luc Melenchon, he said: "Because I am the candidate of the left that wants to run France, I must translate this anger into government action."
Mr Melenchon's strong showing in opinion polls has been one of the surprises of the election campaign.
Organisers of a Melenchon rally on a Marseille beach on Saturday claimed turnout of 120,000.